WASHINGTON, DC—According to an FBI report released Monday, "reliable and substantive evidence" exists indicating that Muslims residing in the U.S. are involved in a widespread plot to develop nuclear families.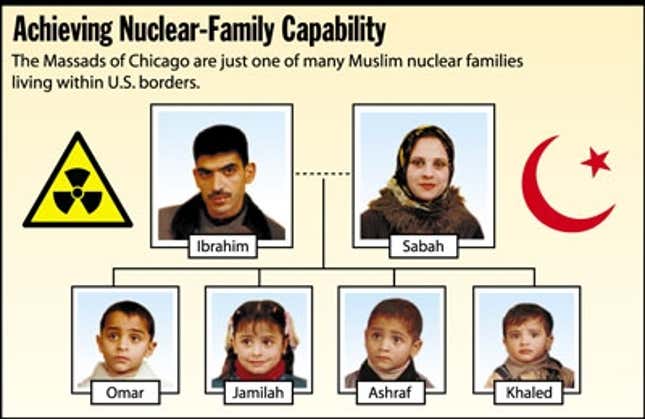 Edgelords Explain Why They Love Elon Musk
"We possess what we believe to be credible proof that thousands of Islamic Americans, many of them Mideast-born, are attempting to acquire nuclear-family capability, often in full view of American law-enforcement authorities," said FBI director Robert Mueller, speaking before the Senate Intelligence Committee. "These nuclear families, which consist of a husband-wife core and a varied number of surrounding offspring, could potentially come into contact with other such nuclear families, creating a terrifying chain reaction of Muslim familial perpetuation."
Census Bureau statistics show that the Muslim population of the U.S. has increased dramatically in recent years. Mueller attributed much of this growth to the proliferation of nuclear families.
"Communities as diverse and far-flung as Newark, NJ, and Tulsa, OK, are being converted into breeder reactors in which Muslim nuclear families can be easily and cheaply produced," Mueller said. "Single Muslims who do not have nuclear families of their own are attracted by these favorable conditions."
According to Homeland Security chief Tom Ridge, unwed Muslims are crucial to the creation of nuclear families. Such individuals, Ridge said, strive to acquire certain critical materials in order to make such creation possible.
"Acquisition of wealth, education, employment, and status is key to establishing nuclear-family capability," Ridge said. "Surveillance of Muslim communities by the FBI reveals that these activities are taking place nationwide."
Quoting from the FBI report, Ridge cited the example of an unnamed Egyptian-born 24-year-old male who settled in the Bronx in 1995. Working days at a gas station owned by an uncle, the man attended nighttime business and English courses at a local community college. Upon graduation, he used his savings to acquire a partial stake in the gas station. It is believed that his hard-earned elevated social status was instrumental in his marriage to a young Iraqi-American woman whose own family immigrated to the U.S. in the late 1980s. Shortly after their wedding, the couple established a two-bedroom breeder reactor in Manhattan, where they produced two children, with another currently on the way.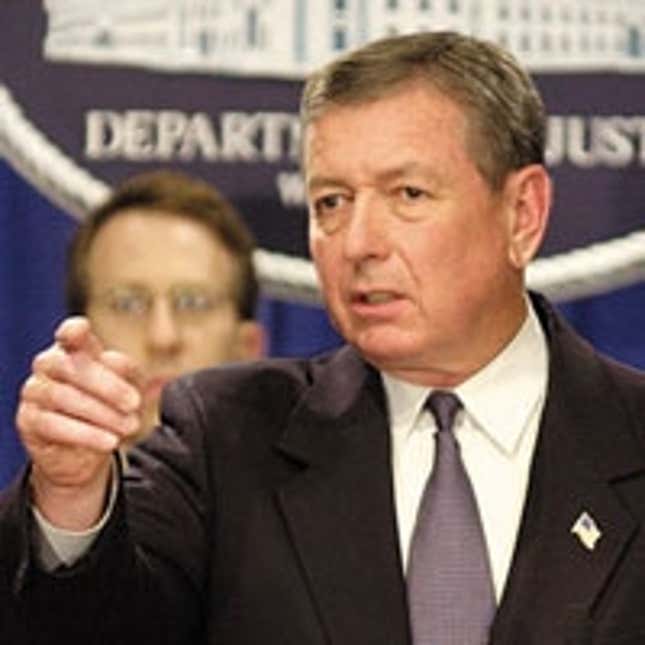 "I'd like to say that this is an isolated example," Ridge said. "But the reality is, this 'Manhattan project' is the sort of thing that is occurring all across the country."
Supporting Ridge's claim, Attorney General John Ashcroft said that a June 2002 search of a home owned by a Muslim couple in Royal Oak, MI, unearthed substantial evidence of nuclear-family-building activity. Materials such as a family photo album, a baby-care book, and the discarded remnants of a used home pregnancy test were found on the premises.
"Fortunately, in that case, we were able to step in and break up the childless couple before they went nuclear," Ashcroft said. "But how many other Muslims do we have living right here in our country trying to do the same thing?"
Monty Conrad, a domestic-security expert and longtime FBI consultant, said that many seemingly reputable Muslim-owned and -operated businesses funnel their profits into nuclear-family programs. Conrad has found evidence linking the proceeds from such businesses to bank deposits, food and clothing purchases, rent and mortgage payments, and other endeavors vital to creating and maintaining a nuclear family.
"Something as innocuous as a newsstand or a hole-in-the-wall falafel restaurant can be underwriting a Muslim nuclear family," Conrad said. "Shockingly, in many cases, there is no attempt to conceal it. Children can be seen behind the counter, laughing and playing as their parents and other adult relatives work."
Conrad faults the U.S. government for "willfully neglecting" the nuclear-family threat posed by Muslims living within U.S. borders.
"The government has, from the federal to local level, permitted these activities to go on right under its nose, in spite of the obvious red flags," Conrad said. "There are thousands of cases of marriage licenses being issued to highly suspicious Islamic couples known to harbor intentions of building nuclear families. Income-tax forms from some of these people even list dependents. All this is clear proof that Islamic nuclear families exist in the U.S., yet nothing is done about it. Why?"
No laws currently exist to fight the proliferation of Muslim nuclear families within the U.S. That gives such Muslims as Abdul Rahman, newly naturalized citizen and Houston resident, a virtual blank check to build a nuclear family.
"I love America," Rahman said. "There is so much more opportunity here than in Syria, and that is why I came to stay. I definitely want to build a new life here and raise a family, and so do my friends."