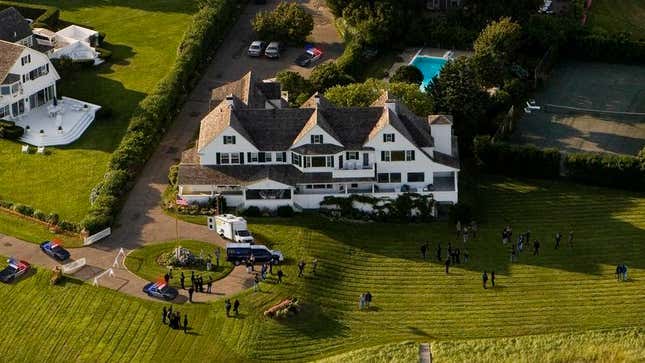 HYANNIS PORT, MA—In a surprise predawn raid Monday, heavily armed FBI agents stormed the notorious Kennedy Compound in Massachusetts, reportedly arresting more than two dozen key members of the faction and exposing many of the bizarre inner workings of this insular fundamentalist organization.
Supreme Court: 'We Wear Gold Crowns Now'
According to officials, agents in full SWAT gear disembarked from patrol boats just off Cape Cod and quickly advanced upon the 6-acre oceanfront compound. The raid followed a multiyear investigation into illicit activities by the secretive Kennedy group, which are said to have included substance abuse, rampant promiscuity, and carefully formulated plans to seize control of the United States.
"At approximately 4:15 a.m., federal agents entered the Kennedy premises, apprehending numerous individuals and charging them with multiple counts of attempting to infiltrate the government at federal, state, and local levels," said lead investigator Frank Campbell, adding that the group's steadily expanding network of members has used the compound as a base from which to extend its power for decades. "Our investigation indicates that several charismatic leaders within the sect manufactured an intense cult of personality that, over the years, they have used to hold sway over many thousands of followers nationwide."
"It appears that the people at the top of this structure possessed a near-pathological desire to exert control over others and manipulate their beliefs," he continued. "These are ideologues, plain and simple. To the many people who got caught up in this so-called family, these individuals' power of persuasion was irresistible."
Searching the three clapboard houses that compose the compound, investigators said they found numerous symbols consistent with intense fanaticism, including framed photographs of their late leader, John F. Kennedy, upon whom family members appear to have accorded a sort of godlike status. Sources confirmed that the messianic figure spoke of a mystical "New Frontier" and believed the future of his people hinged upon making a journey to the moon, a mission he ordered his followers to carry out as quickly as possible.
Records show the compound was established in 1926 by Joseph P. Kennedy Sr., a man referred to as "the patriarch" and believed to have more than 100 descendants. A survey of land deeds determined that Kennedy's children and grandchildren—many of whom were known to take multiple wives and produce unusually large numbers of offspring to propagate their ranks—later bought up several of the surrounding Hyannis Port properties, apparently to keep family members confined in close proximity while keeping outsiders at bay.
Providing evidence of the group's eccentric ideology, FBI forensic psychologist Ada Willmann told reporters the Kennedy clan's belief system is structured around the central concept of "Camelot," within which the family perceives itself in grand, mythic terms as a kind of modern-day American royalty.
"Given such profound levels of self-delusion, we're clearly dealing with a group of people who have divorced themselves from reality," said Willmann, adding that interrogators have been able to glean little new information from the family members now in custody, who so far have stuck to similar lines of strange utopian rhetoric. "Remember, many members of the Kennedy group have been trapped in the compound for decades. They appear to have been subject to the same rigid philosophy and forced to repeat the same mantras again and again. Over the years, they have become increasingly closed-off and paranoid, and the hardliners who remain are fully indoctrinated."
"They all look the same, talk the same, and even dress the same," she added. "It's very unsettling."
FBI officials acknowledged the success of the Kennedy raid stands in stark contrast to a botched operation two years ago at the remote Cheney family ranch in the Wyoming wilderness, where 14 federal agents attempting to serve a warrant were gunned down by extremists on site.