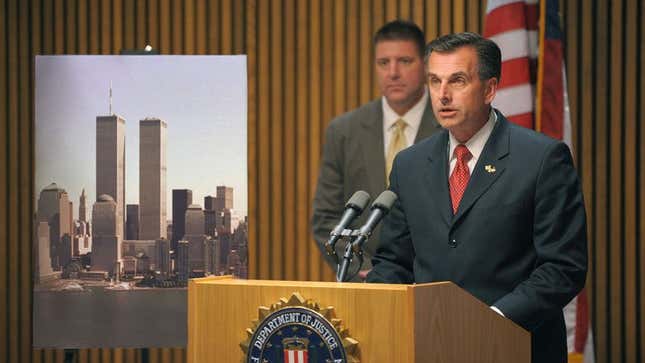 WASHINGTON—Speaking at an impromptu press conference early this morning, FBI officials revealed the discovery of new information regarding a possible terrorist attack within the United States on Sept. 11, 2001.
This Week's Most Viral News: September 22, 2023
"We recently received intelligence from credible sources leading us to believe that, 11 years ago today, a group of Islamic extremists plan to hijack two Boeing 767 commercial airliners and fly them directly into the north and south towers of the World Trade Center in New York City," FBI director Robert Mueller told reporters. "Furthermore, we have it on very good authority that on the same day, insurgents are also plotting to commandeer two Boeing 757 aircrafts and crash them into the Pentagon and the U.S. Capitol building."
"While we realize this is incredibly alarming news, we encourage all Americans not to panic," Mueller continued. "However, anyone working inside or around the World Trade Center or D.C.-area government facilities on Sept. 11, 2001, is urged to evacuate the area and remain at least five miles from those locations. If you are planning on flying that morning on American Airlines Flight 11, United Airlines Flight 175, American Airlines Flight 77, or United Airlines Flight 93, we strongly advise you to cancel your plans and stay at home. And if you have any loved ones who will be in those areas 11 years ago, please get in touch with them right away and make sure they are aware of the situation."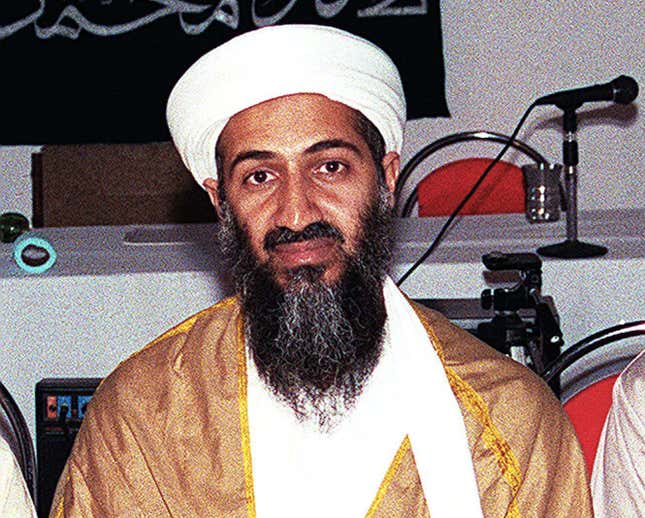 According to Mueller, President Barack Obama, Vice President Joe Biden, and Defense Secretary Leon Panetta have already been made aware of the plot, as well as former President George W. Bush, former Vice President Dick Cheney, and former Defense Secretary Donald Rumsfeld. In addition, New York City mayor Michael Bloomberg and former New York City mayor Rudy Giuliani have been briefed on the attacks expected to come approximately 132 months ago.
Mueller also said officials at Newark, Logan, and Dulles international airports have been informed to tighten security measures and remain on high alert for any suspicious activity on the day in question.
The FBI chief confirmed that while the information is still "very fresh," the bureau is already hard at work attempting to decipher the precise details surrounding the plot.
"We have already begun a large-scale investigation into the individuals purportedly planning these attacks," said Mueller, adding that the head of the militant group allegedly responsible for the plot has been identified as deceased al-Qaeda leader Osama bin Laden. "The current whereabouts of Khalid Sheik Mohammed, a Kuwaiti terrorist operative believed to be orchestrating the hijackings, are estimated to be somewhere in the Guantánamo province of Cuba. We have offered a $25 million reward for his capture, and we are happy to say that he has already been apprehended and brought into U.S. custody."
Sources confirmed that the plot was revealed due to newly uncovered FBI intelligence in the form of phone calls and e-mails between al-Qaeda agents intercepted by counterterrorism experts; alerts from the intelligence agencies and governments of Italy, Jordan, the United Kingdom, and Egypt regarding an impending major attack on American soil using hijacked airplanes; testimony from a number of terror suspects under interrogation; an Aug. 6, 2001, presidential briefing titled "Bin Laden Determined To Strike In U.S."; millions of pictures of the burning Twin Towers and subsequent rubble at Ground Zero; hundreds of national news and radio broadcasts; interviews with witnesses and first responders at the scene; countless newspaper articles; candlelight vigils and memorial services around the world for victims of the tragedy; videos of al-Qaeda leaders taking credit for the attacks; the 2006 Oliver Stone film World Trade Center; and thousands of hours of archived footage on YouTube of the planes flying into the buildings.
Mueller also cited the 2004 9/11 Commission Report as the agency's most comprehensive and reliable source of intelligence confirming the likelihood of the attacks.
"Certain details are obviously still unclear," Mueller said. "However, I can now say with confidence that on the morning of Sept. 11, 2001, a total of 19 terrorists plan to smuggle small knives, box cutters, and cans of mace or pepper spray on board four commercial jets; kill many of the crew members; and barricade the cockpits before rerouting the planes toward their intended targets. Rest assured, however, that these threats are not something we take lightly, and we will act accordingly."
"Thankfully, we caught this early," Mueller added. "There's no telling what inexplicable horrors these attacks could have caused had we not seen them coming."