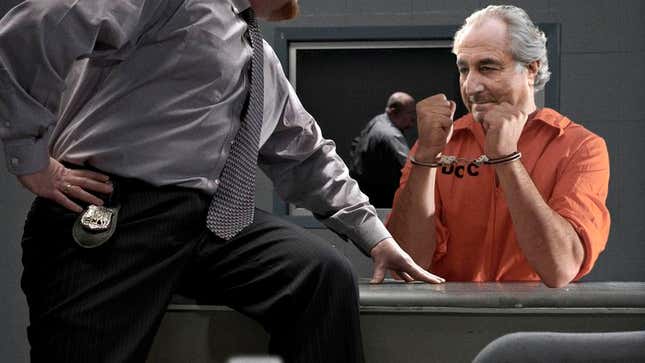 NEW YORK—According to high-ranking federal officials, the U.S. government has struck an unusual bargain with convicted criminal Bernard Madoff, giving the former financier 48 hours to infiltrate the nation's crumbling economy and fix it in exchange for a reduction in his sentence.
This Week's Most Viral News: September 22, 2023
After determining the current economic emergency could not be resolved "within conventional means," Treasury Department agents reportedly confronted the notorious Madoff in his solitary confinement cell and proposed a mutually beneficial arrangement that will make the 73-year-old a free man if he can safely "get in and out" and turn the failing financial system around by Friday.
"We told him the situation—how our country can't seem to generate wealth and investment nationwide has hit rock bottom—and then we asked him, point-blank, 'Can you help us?'" Treasury Secretary Tim Geithner said of Madoff, known to fellow prisoners at Butner Federal Correctional Complex as "Mad Dog." "Believe me, no one wants to do this monster any favors, but he's the only man in America with the skills to rally investor confidence and conjure money out of thin air. This time, though, he'll be using his talents for good—if we can keep him on a tight enough leash, that is."
"Madoff may be one ruthless, crazy son of a bitch," Geithner added, "but he just might be our only hope."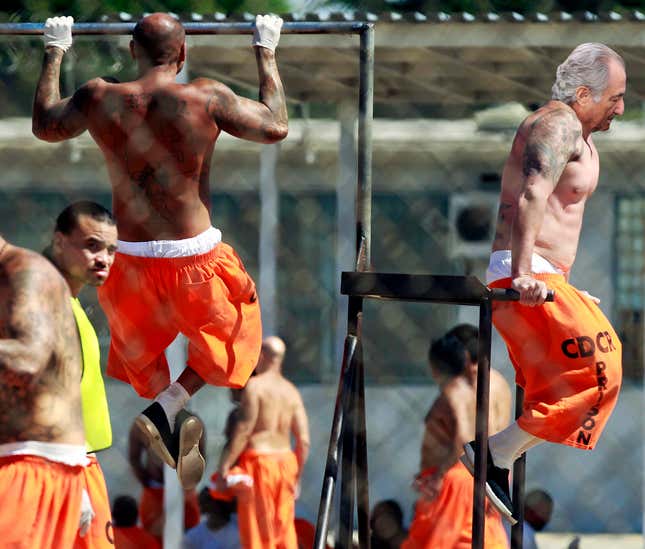 Sources speaking on condition of anonymity said Madoff listened to the proposal with a smirk and took several drags off a cigarette before finally telling agents, "You guys must be pretty hard up if you're asking me," and agreed to the terms of the deal.
The mission is said to involve outfitting Madoff in a three-piece pinstripe suit and briefcase and transporting him by a glider to the extraction point at 11 Wall Street in Manhattan, where he will work quickly to generate funds via various investment operations and "wealth management" schemes, a plan officials are calling "a suicide mission, perhaps, but our last, best shot."
"There's a strong chance he'll go rogue once he realizes the mission is all but hopeless, so we've implanted a tracking device in his body that will explode if he strays more than a mile from the New York Stock Exchange," said Geithner, acknowledging Madoff is one of the few men alive ruthless enough to survive the total disaster zone he's being sent into. "It's a risk we have to take. Mad Dog knows that place like the back of his hand, and this is a guy who made billions of dollars practically overnight by cold-bloodedly convincing people their retirement accounts were booming. The man is a selling machine."
"And right now, brother, that's exactly what we need," Geithner added.
U.S. Treasury accountant Simon Trueheart, known within the department as a by-the-book bureaucrat, will accompany Madoff on the mission, and the criminal mastermind is reported to have already told his unlikely sidekick to "leave the pocket calculator at home, kid, because if we do this, we do it my way, understand?"
When asked if the government would actually make good on its promise to reduce Madoff's sentence to time served should he succeed, Treasury officials were noncommittal, but confirmed they would be checking up with him every hour on the hour to chart his progress and make sure "the psycho bastard isn't up to his old tricks again."
"Some of the bankers, traders, and corporate executives in there now are even more merciless than he is, so let's just hope he can keep his wits about him," said Geithner, adding that he worried Madoff might merely be making use of the opportunity to reunite with his estranged son, Andrew, on the outside. "The clock is ticking. Every minute he's down in that fucking madhouse we're one minute closer to total economic oblivion. I never thought I'd say this, but Godspeed, Bernie Madoff. You better know what the hell you're doing."
When reached for comment, Madoff told reporters he personally didn't care "one rat's ass" whether the economy recovered, as long as it meant he'd be out on probation in two days time.
"I may not like being the feds' monkey, but it beats rotting away in the hole, I can tell you that much," Madoff said after completing a set of one-armed push-ups and running a comb through his hair. "But mark my words, if that pencil-pusher Geithner weasels out of this deal, I will hunt him down and slit his fucking throat. You got that, Jack? He's in Mad Dog's world now."