FOXBOROUGH, MA—More than 90 percent of female football fans were lost for the season on Sunday when New England Patriots quarterback Tom Brady suffered a left knee injury that will require extensive treatment. The Patriots announced Monday that Brady, the 2007 NFL Most Valuable Player and arguably the NFL's most handsome man, will be placed on injured reserve, where despite being no less attractive than before his injury, he will only be partially visible for the rest of the 2008-2009 season.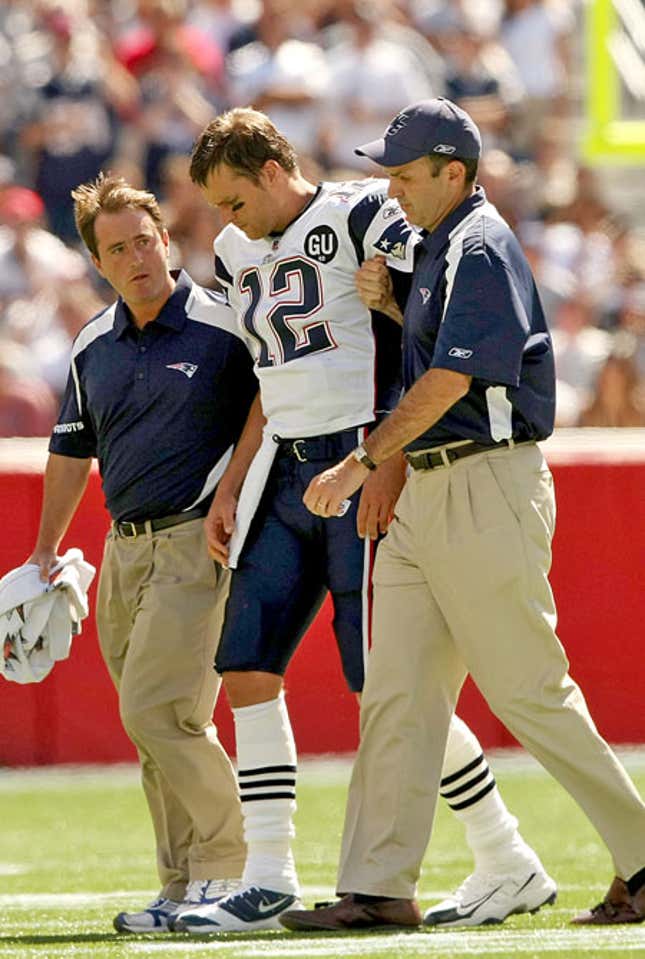 CDC Issues Dire Warning That Nick Cannon Is Feeling Horny
Bill Belichick held a press conference Tuesday confirming that Brady will have surgery, ending his 128-game combined starting-and-high-visibility streak, the third longest for a quarterback and the longest ever for a quarterback heartthrob.
Brady left Sunday's game against Kansas City after suffering an ugly anterior cruciate ligament tear in his incredibly handsome left knee after being hit by merely average-looking Chiefs safety Bernard Pollard.
"We feel badly for the nation's women about the injury," Belichick said. "And for Tom, of course. You hate to see anyone with that kind of masculine yet boyish appeal go down. No one has worked harder or done more for this team's female fan base than Tom has, and we expect him to set his rugged, chiseled jaw, keep his twinkling blue eyes on the prize, and be ready to get back on the field and in front of the cameras by next year."
Matt Cassel, who analysts say looked "consistent and confident" while guiding New England to its 20th straight regular-season win after Brady was hurt and "okay but not remarkable" in jeans and a polo shirt after the game, will start Sunday at the New York Jets, although there are doubts Cassel can win as many games and women as Brady.
"Well, as far as my role on this team goes, I'm not trying to be Tom Brady. I'm just trying to be Matt," Cassel said when subbing for Brady on his regular weekly radio show. "I mean, I have to just be myself, or else the ladies will sense I'm faking it, and in the end, that'll make it worse. I just hope there's one special fan group out there for me."
Cassel has been a second fiddle his entire football career, even in college at Southern California, where he was backup and wingman to lovable tousle-headed manchild Matt Leinart.
But football and demographics analysts agree that Brady's injury surely changes the rugged, weatherbeaten complexion of the entire NFL, where the Patriots, winners of three Super Bowls since 2001 with Brady as their quarterback and spokesmodel, were the strong female-fan favorite. However, Belichick denied the team reached out to any other more experienced or handsome quarterbacks.
Although losing Brady's strong arm and sculpted face will not be easy for the Patriots, the impact of his loss is expected to be felt around the NFL, where Brady has been the leading performer both on and off the field for the last several seasons. League commissioner Roger Goodell called an emergency owner's meeting Monday in which attendees discussed measures designed to compensate for Brady's loss, such as giving poise and diction lessons to Peyton or Eli Manning, getting Brett Favre a new wardrobe and a decent haircut, or teaching Ben Affleck how to play football.
Unfortunately for the NFL, Brady's loss seems to have affected more than just the Patriots and women. Many Boston-area fans of both genders, claiming that the team isn't worth watching without Brady, have concentrated their attention on the waning and somewhat disheveled Red Sox season or the attractive upcoming Celtics' NBA title defense. The sports media has likewise gone into shock, with columnist Bill Simmons saying he will no longer watch football this season, Sports Illustrated canceling large Brady-themed sections of this years' upcoming swimsuit issue, and NBC Football Night In America analyst Cris Collinsworth bursting into tears and collapsing into Peter King's arms upon receiving the news.
"No one else in football has Brady's unique talents—the physical gifts of build, height, arms, cheekbones, piercingly sultry field vision, the combination of arm strength and accuracy with a sense of tenderness, the combination of smirk and pout—along with the intangibles and the ability to look good in everything," said Tom Chiarella, who scouted and evaluated Brady for the September issue of Esquire. "It's impossible to estimate the impact of his loss, but it will almost certainly mean the loss of most female fans, many Boston-area fans, fair-weather fans, and the majority of mainstream media fans. The NFL is really looking at a worst-case scenario here, one that it never wanted to happen: A football season that's only watched by actual football fans."