SANTA CLARITA, CA—After turning 29 last week, local single woman Denise Palermo reportedly took the opportunity Tuesday to reflect on her current lack of long-term relationship prospects and slash several more items from the continually shrinking list of qualities she desires in a romantic partner.
"Well, it's time to lower the bar again," said Palermo, referring to the minimum personal, professional, and financial characteristics she looks for in the men she dates. "Full head of hair—that's got to go. Being well-read has been on the chopping block for years, so it's probably time to get rid of that one. Ditto on him being a great conversationalist, being taller than me, liking the Decemberists, and not taking himself too seriously."
"Come to think of it, my upper age limit has been 40 for a while," Palermo added. "Maybe now's a good time to go ahead and bump that up to 45."
According to sources, Palermo's checklist, which as recently as 2007 included more than 38 specifically ranked physical, emotional, and intellectual attributes, has been cut down by more than two-thirds since her teenage years, when her image of the ideal boyfriend was at its zenith.
Priorities that once occupied top slots, such as having good teeth, a love of international travel, and individually defined abdominal muscles, were long ago demoted in importance, and are now said to be considered perks, though they are by no means requirements for Palermo to date someone.
G/O Media may get a commission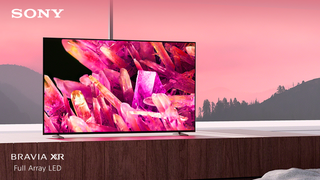 $400 off
Sony 55 Inch 4K Ultra HD TV X90K Series
"I used to say I'd only ever consider getting involved with a professional, ideally a doctor, but then as I got a little older it was anyone with a bachelor's degree, and now, honestly, any guy who holds down a steady job can make the cut," said Palermo, noting that lack of full-time employment as a deal-breaker is scheduled for removal by 2019. "He doesn't even need to own his own place or like the outdoors, criteria that were removed from the list in 2011 and 2012, respectively."
"I will say, though, that a love of dogs is still very important to me," Palermo continued. "That one's got at least another two years left in it."
This latest trimming of Palermo's list comes after similar purges on birthdays in 2002, 2003, 2006, 2010, 2011, 2012, and last year, when she reluctantly struck off her long-held prohibition against dating smokers.
Though she acknowledged the nonnegotiable traits she absolutely insists upon are few—namely wanting to have kids someday, not being overtly religious, and maintaining a basic, minimal level of physical fitness—Palermo said she often wonders whether there might still be a lot of compatible partners out there she isn't giving a chance to.
"Sometimes I think maybe it's unreasonable for me to have these expectations," said Palermo, admitting that lately she has come to terms with dating men who "don't have much in the way of a sense of humor." "Maybe there are a lot of good guys out there who don't listen to music or read more than a book a year. I guess I could figure out how to be okay with that."
"Because really, when you get down to it, there are only two things that are important: that a guy is attracted to me and that he isn't currently dating someone else," Palermo continued. "I haven't had to cross those off. Yet."