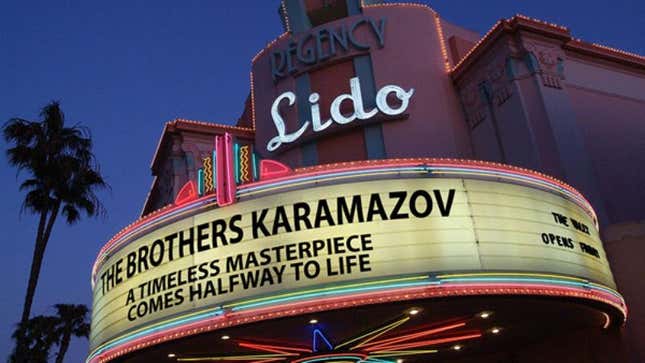 LOS ANGELES—Executives at Paramount Pictures announced Monday that production had finally wrapped on The Brothers Karamazov, a new film adaptation that concludes at the precise moment most readers give up on the classic Russian novel.
This Week's Most Viral News: September 29, 2023
The 83-minute film, which is based on the first 142 or so pages of Fyodor Dostoevsky's acclaimed work, has already garnered attention for its stunning climax, in which the end credits suddenly appear midway through Katerina's tearful speech about an unpaid debt.
"We are very excited to be able to bring several chapters of this timeless masterpiece to the big screen," Paramount CEO Brad Grey said of the movie, which was shot, on and off, for two years. "Anyone who's ever tried to sit down and trudge through this incredible book is going to be absolutely blown away by the faithfulness of our film."
"It's all here," Grey added. "The opening scene, that part a little bit later on where some big commotion is taking place but you're not quite sure what it is, that monastery thing they all go to—everything, just as you half-remember it."
According to director D.J. Caruso, great care was taken to painstakingly recreate the experience of slowly inching one's way through the dense work of literature. Starring Viggo Mortensen as both Alyosha and Aleksey, depending on the scene, and Laura Linney as someone's mother or aunt, the film opens with a three-minute-long summary taken directly from the novel's back cover.
"I've been picking up and putting down The Brothers Karamazov since college, so this was a dream project for me," Caruso said. "I can still remember the first time I ever tried to read it. The obscure, often archaic prose, the overwhelming cast of characters, the frustration of reading 10 whole pages and then realizing that I didn't understand a thing—it all had such a profound effect on me."
"I didn't want to lose any of that when I made the movie," he added.
To that end, the film makes extensive use of a new state-of-the-art "skim-over" technology, which allows the more tedious depictions of existential inquiry to be played at double or even triple speed.
In addition, the film reportedly contains a number of innovative "go-back" sequences, in which early scenes between Dmitri and Fyodor are replayed later in the movie with greater attention to detail, clearer exposition, and many of the actors in their correct roles.
According to Paramount executives, The Brothers Karamazov will also include 12 separate intermissions, during which portions of the latest John Grisham–inspired film will appear onscreen.
"We used every tool at our disposal to make the experience of reading The Brothers Karamazov come to life," Caruso said of the film, which will be released in a special 15-minute Cliffs Notes version next year. "I hope this is the kind of movie that, years from now, people are going to talk about maybe watching again from the beginning some day."
Despite sparsely attended screenings in which some viewers reportedly exited the theater quietly before the film's conclusion, initial audience reactions have been very positive.
"To be honest, I was a little worried that they wouldn't do the book justice," viewer Joel Ladin said a few days after watching the film. "But when I saw Michael Caine up on that screen, repeating the same line over and over and over again as the audience looked on blurry-eyed, I knew they had pulled it off. The Brothers Karamazov is just as convoluted and painful as I remember it!"
Sources connected to the film have already confirmed that the DVD release of The Brothers Karamazov will include a special bonus scene consisting of the book's last sentence read aloud over a blank screen.