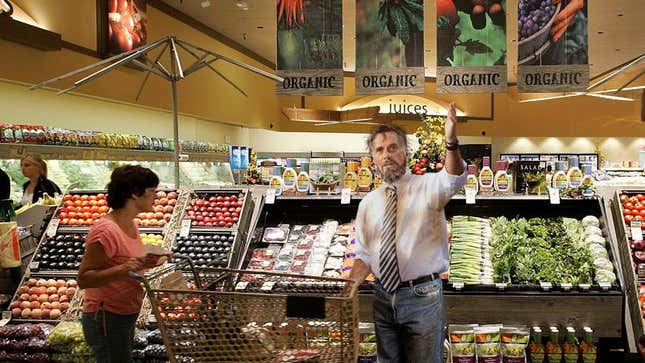 CANTON, OH—According to eyewitnesses at the scene, an unkempt and thoroughly disheveled Mitt Romney gave an impassioned campaign speech Monday to a group of bewildered shoppers inside a local Safeway.
FBI Investigating Fourth-Grade Kid Who Said He Has Seen Over 200 Dead Bodies
Sources confirmed the filth-covered former presidential candidate walked into the store unannounced early yesterday evening, went to the store's cereal aisle, and started to play Kid Rock's "Born Free" on a portable boom box, enthusiastically waving and pointing to no one in particular.
As customers began to recognize the 2012 GOP nominee through his scraggly beard and uncombed hair, Romney reportedly picked up a can of Pringles from a nearby shelf, held it near his mouth, and began loudly addressing the growing crowd of confused onlookers.
"How are we feeling out there, friends?" said Romney, who paused briefly as though waiting for applause from the baffled and completely silent supermarket shoppers. "First and foremost, thank you so much for coming out here today and for your continued support throughout the campaign. We're making our voices heard across the country—that's for sure!"
G/O Media may get a commission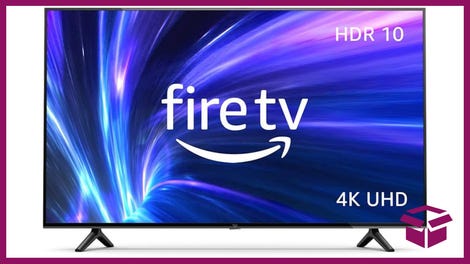 42% Off
Amazon Fire TV 50" 4K Smart TV
"Together, we're going to bring some real change to Washington!" added Romney, who staggered slightly as he spoke but maintained his balance.
Witnesses told reporters that Romney walked around the store barefoot as he gave his speech, wearing only a pair of dirt-caked jeans and a wrinkled dress shirt covered in food stains.
Safeway patrons also said the former Massachusetts governor gave off an incredibly strong odor and appeared to have gone "days, possibly weeks" without bathing.
"President Obama is trying to distract everyone from his record, because he knows his policies have done nothing to rebuild our economy," said Romney, eating from a large box of croutons he had taken from the salad dressing aisle. "My five-point plan will scale back the job-killing policies of the current administration, promote small business, cut tax burdens, and put Americans back to work again."
Sources said a weeping Ann Romney at one point attempted to pull her husband out of the store by his arm but was angrily rebuffed, with the 65-year-old retired businessman yelling that he was "trying to do [his] job here."
Romney then reportedly climbed atop a checkout counter, rolled up the torn sleeves of his shirt, and started calling on different customers for questions about his tax policy.
"And now, I'd like to welcome on stage the best decision I ever made aside from marrying Ann—the next vice president of the United States, Paul Ryan!" Romney exclaimed as he grabbed the hand of a nearby cashier and attempted to pull her onto the counter to stand alongside him. "From the moment we take office, Paul and I are going to fight for each and every one of you and restore the promise of this great nation."
According to reports, Safeway employees finally called local authorities when Romney attempted to grab an infant from the arms of her mother "for a quick photo op."
After three police officers managed, with some effort, to subdue Romney in the produce section, he could be heard shrieking incoherently at the top of his lungs for several moments before he finally trailed off, muttering about a plan to "create 12 million jobs by the end of [his] first term."
"We're going all the way to the White House!" Romney loudly proclaimed in the parking lot as he was gently guided into the back of a police car. "Thank you, God bless you, and God bless the United States of America!"