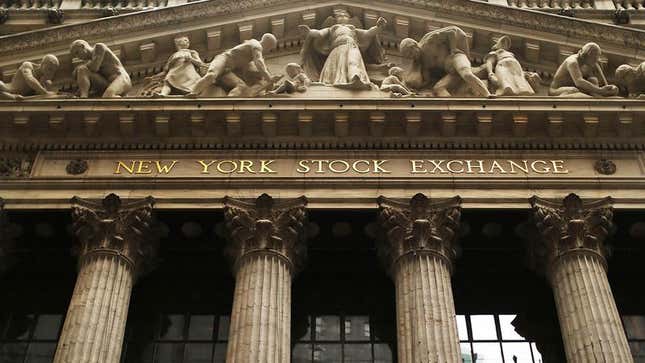 NEW YORK—Claiming that enough time had surely passed since they last caused a global economic meltdown, top executives from the U.S. financial sector told reporters Monday that they are just about ready to completely destroy the world again.
Representatives from all major banking and investment institutions cited recent increases in consumer spending, rebounding home prices, and a stabilizing unemployment rate as confirmation that the time had once again come to inflict another round of catastrophic financial losses on individuals and businesses worldwide.
"It's been about five or six years since we last crippled every major market on the planet, so it seems like the time is right for us to get back out there and start ruining the lives of billions of people again," said Goldman Sachs CEO Lloyd Blankfein. "We gave it some time and let everyone get a little comfortable, and now we're looking to get back on the old horse, shatter some consumer confidence, and flat-out kill any optimism for a stable global economy for years to come."
"People are beginning to feel at ease spending money and investing in their futures again," Blankfein continued. "That's the perfect time to step in and do what we do best: rip the heart right out of the world's economy."
According to sources, the overwhelming majority of investment bankers are "ready to get the ball rolling" by approving a host of complex and poorly understood debt-backed securities that are doomed to quickly default, as well as issuing startlingly high-risk loans certain to drive thousands of companies into insolvency.
Top-level executives also told reporters that when it comes to depleting the life savings of millions of people and sending every major national economy into a tailspin, they feel "refreshed and raring to go."
"The other day I actually overheard someone on the sidewalk utter the words 'I'm saving up for retirement,' and right away I thought to myself, 'Well, time to get down to work,'" said Morgan Stanley chairman James P. Gorman, adding that the increasing number of individuals entertaining ideas of starting their own businesses or buying houses was the financial sector's cue to set off another devastating global recession. "We're definitely thinking on a huge scale again, because we all really enjoy toying with the livelihoods of millions of people overseas and forcing them to wonder why reckless, split-second decisions made thousands of miles away dictate their whole country's socioeconomic future."
"Plus, it'll be nice to finally wipe out the Euro once and for all this time," Gorman added.
While most private equity firms, investment banks, and hedge funds are reportedly still undecided on the precise route to take in order to torpedo the job market and crash all international stock exchanges, sources confirmed they are nearly in position to resume gambling away trillions of dollars belonging to the American populace.
"We've got a lot of options on the table; it's just a matter of picking which one we want to use to paralyze every single sector of the world economy," said Capital One executive vice president Peter Schnall. "We already burst the dot-com and housing bubbles, so this time we can maybe mix it up by popping the education bubble and shattering the lives of everyone with outstanding student loans. Or maybe we'll artificially inflate prices of stocks in social media companies and then pull the rug out, bankrupting every investor tied to companies like Facebook and Twitter. Or do both."
"On second thought, maybe we'll wipe out the housing market again too, just for the hell of it," Schnall quickly added. "Might as well, right?"
According to a recent survey of Wall Street officials, 82 percent said they were "excited to shake off the rust" and send the Dow and NASDAQ into another freefall. Additionally, 75 percent of respondents admitted they have been "champing at the bit" for months to wholly undermine the nation's local banks and money market accounts, leaving Americans too terrified to leave their savings anywhere.
Moreover, the chief financial officers from Bank of America, Citigroup, JPMorgan Chase, and Wells Fargo unanimously told reporters that it has been "way too long" since they last saw the utterly dejected faces of American families whose homes had just been foreclosed on due to circumstances totally beyond their control.
"Now that the public's efforts to curtail questionable Wall Street trading practices have all but ceased, it's time for us to bring the world to its knees again," said AIG CEO Robert Benmosche. "There are still plenty of opaque financial derivatives, high-frequency trading operations, and off-balance sheet transactions out there, all with virtually no federal regulation. Trust me, we can definitely work with that. And if anything, we can always just lobby for further concessions and deregulation in Washington—which, by the way, is so, so easy to do—and then we can cause as much damage as we want."
Added Benmosche, "And while we're at it, we'll make sure we once again come away from this whole thing scot-free and far wealthier."