NEW YORK–Alessandra Coletti, the 22-year-old mezzo-soprano sensation, has stunned opera-loving octogenarians around the globe with her astonishing range, power, and upper-register control. Touted as the greatest female opera singer of her generation, the Milan-born, New York-bred Coletti is completely unknown among members of her generation.
"Alessandra who?" said Amy Sharper, 23, a self-described "total music freak" from Reston, VA. "I think maybe that's the bassist for Nashville Pussy. I'm really not sure, though."
"A singer of this stature comes along once in a lifetime," said Thomas Sagal, 71, editor of Opera Digest, which boasts a circulation of nearly 38,000 elderly readers. "Her recent performance as the princess in Dorgomizhsky's The Mermaid at the Leningrad Opera was electrifying. It must be thrilling for young people to know that one of their peers is such a prodigious talent."
During a recent performance of Mascagni's Cavalleria Rusticana at the Lyric Opera in Chicago, Coletti played to a capacity crowd of 4,600 old people. Of the 23 teenagers in attendance, 22 were ushers and one was dragged to the performance as punishment.
"My mom said if she ever caught me drinking again, she'd force me to go to an opera with her," said Courtney Weis, 15, who was not enthralled by Coletti's stirring vibrato and formidable coloratura agility. "Holy shit. Let's just say I'm never touching Jack Daniel's again."
G/O Media may get a commission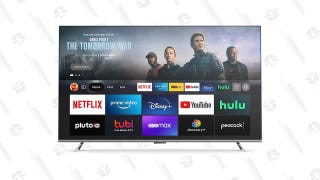 Save 46%
Fire TV 55" Omni Series 4K UHD Smart TV
Raised by symphony violinists Celeste and Antonio Coletti, young Alessandra grew up surrounded by opera and classical music.
"My earliest memories are listening to Enrico Caruso 78s on my parents' Victrola," Coletti said. "When I was seven, they took me to see Renata Babek in La Gioconda. What a thrill that was. I remember asking my mother why there were no other children in the audience. She told me they were all across town at Carnegie Hall watching Tchaikovsky's Queen Of Spades."
In 1997, after two years of study at the Rimsky-Korsakov conservatory in St. Petersburg, Coletti returned to the U.S. At the tender age of 18, she made her Metropolitan Opera debut as Inez in L'Africaine. Dazzling even the most jaded audience member with a bravura performance, Coletti received a five-minute standing ovation from people more than four times her age.
In attempting to describe Coletti's astonishing gifts, fans often invoke the legends of opera, from Emma Eames to Denyce Graves–names that would draw blank stares from anyone under 50.
"Of the great female opera singers of today, few are comparable to Coletti," said near-death Chicago Tribune opera critic Arthur Sachs. "If she continues to progress at her current rate, I might one day even put her in the class of a Maria Callas."
Widely considered the finest operatic voice of the 20th century, Callas is unknown among 18- to 24-year-olds, ranking behind rubber-faced '70s funnyman Charlie Callas in celebrity-Callas name recognition.
One of Coletti's few fans not born in the first half of the last century is Andrew Shermer, president of the Twentysomething Opera Appreciation Society (TOAS).
"I formed TOAS after seeing Alessandra Coletti's Violetta in La Traviata," said Shermer, 24. "I'd seen opera before and enjoyed it, but seeing her at the Met that night blew my mind. It inspired me to start up a web site, toas.com, to reach other people my age with interest in the opera."
Thus far, TOAS has attracted only five members. And while www.toas.com receives an average of 10,000 hits a week, an analysis of its traffic indicates that 99.999 percent of those are from people who misspelled "Taos," a popular New Mexico ski destination.