BOULDER, CO–Shock and disbelief were the prevailing reactions Monday, when pizza-delivery guy Lyle Kelso, 24, reported to roommates that at around 2 or 3 a.m., he personally witnessed, like, five or six dudes suddenly jump out of freakin' nowhere and just start totally whaling on this one guy.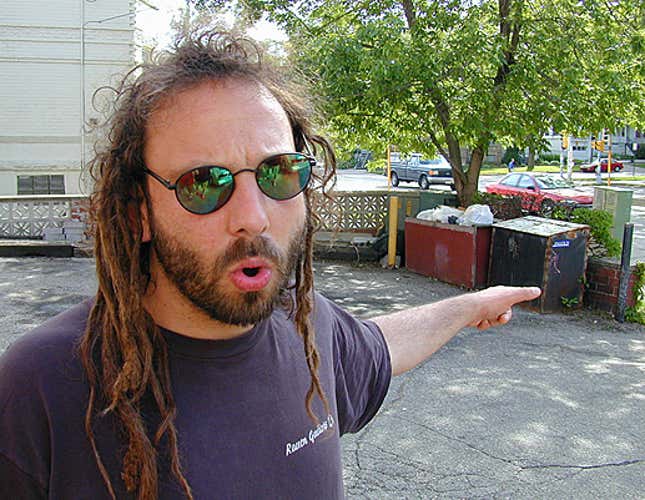 This Week's Most Viral News: June 9, 2023
"That is majorly messed-up," roommate "Thatches" Moynihan said. "You hear about that sort of shit on the news, but you never think it's going to happen right in front of somebody you know who'll later come home and totally tell you all about it. When Lyle told us, I was like, 'Whoa, dude. That's harsh.' We all were. It sounded like some seriously wigged-out shit, from what Lyle was saying."
According to Moynihan, he and three other roommates were sitting around, just kicking back and watching TV, when Kelso burst into the room and breathlessly announced that "you guys are not gonna fucking believe what the fuck I just saw by the Dumpsters behind Papa Luigi's [Pizza]."
After a dramatic pause, the visibly agitated Kelso said, "I just saw some poor fucker completely get his ass beat down by a bunch of seriously pissed-off dudes," prompting responses ranging from "No way, man!" to "Holy shit, dude!"
According to this one guy who heard the story from a buddy of one of the roommates at a house party the next night, the scene supposedly went down something like this: Toward the end of his shift, Kelso sneaked out to the alleyway between Papa Luigi's and Fat Pete's Subs to fire up a big ol' jay. While smoking up, Kelso heard the sound of squealing tires from the parking lot behind Papa Luigi's. Fearing that it was the cops about to bust his ass, he peered around the corner to check out what the fuck was up. Kelso said he saw a black van, identified only by an airbrushed painting of a barbarian chick on the side and an enormous "Ozzy" sticker in the back window, suddenly pull up from out of nowhere, right next to some dude who was about to get in his car.
Without warning, the guy who heard the story from a buddy of one of the roommates said, five or six huge-ass motherfuckers who totally looked like bodybuilders or something jumped out of the van, cornered the unidentified victim, and basically just commenced to whaling on his ass.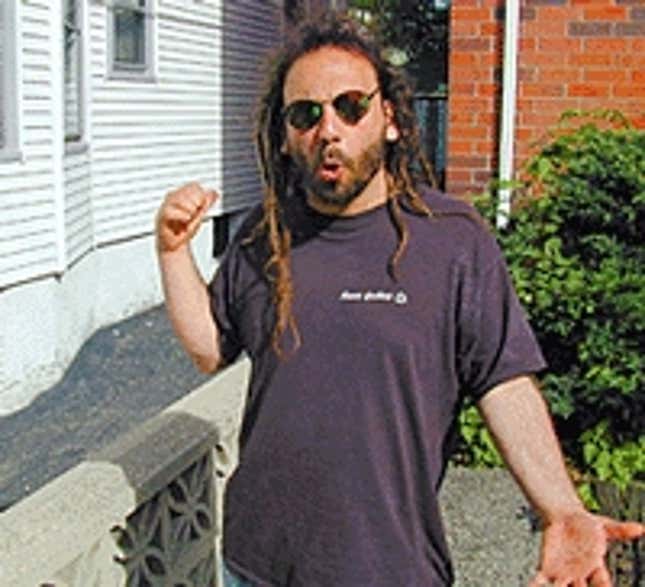 "I would've tried to help, but there was no way I was messing with those fuckers. Uh-uh, no sir," Kelso reportedly told roommates. "I may have been baked, but I ain't stupid."
After several minutes of some seriously painful ass-kicking, the big, mean-looking dudes reportedly hopped back inside the van and bolted as suddenly as they'd appeared. Before Kelso could approach the poor fucker who'd gotten whaled on, the dude limped to his car and bolted, leaving the stunned Kelso standing there wondering what the holy hell had just fucking happened and "feeling like [his] mind was totally friggin' blown."
Though the identity of the whaled-upon dude remains unknown, numerous theories exist regarding who the fuck he was. Among the theories are that he was Some Poor Sap Who Never Knew What Hit Him, A Guy Who Just Happened To Be In The Wrong Place At The Way-Wrong Freaking Time, or Somebody Who Obviously Must Have Fucked With The Wrong People. Supporters of each theory, however, agree that, whoever the hell the guy was, he probably ain't exactly having the best day right about now, wherever the hell he is.
The attack has raised serious safety and crime-prevention concerns among the roommates.
"After that shit Lyle told us he saw, I ain't goin' anywhere without a baseball bat in the car, I'm telling you that right the fuck now," said Matt Mendham, 22. "It's like, do I want to get my ass pounded by a bunch of monster dudes? No, I don't think so."
Added Mendham: "It's too bad my friend Chad's brother wasn't there, because he totally knows t'ai chi and shit."
Despite the strong reaction to the guy-whaling incident among Kelso roommates and associates, some are questioning the validity of his claims.
"Kelso's always making shit up," said Dan Soderlund, a longtime coworker of Kelso's at Papa Luigi's. "He smokes a few bowls, and the next thing you know, it's, 'Dude! The freakiest thing just happened!' It's like, 'Yeah, yeah, keep talking, Lyle.' That guy is so full of it sometimes. Believe me, I've heard it all before, man."