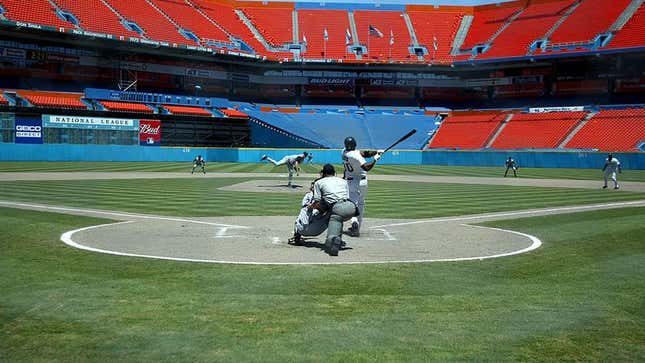 MIAMI—The Florida Marlins delayed the start of their game against the St. Louis Cardinals last Sunday when Steve, their fan, failed to show up at Sun Life Stadium by the scheduled 1 p.m. start time.
This Week's Most Viral News: June 9, 2023
"That's strange," Marlins manager Edwin Rodriguez said while squinting up at their sole fan's unoccupied bleacher seat. "It's not like him to be late, especially on a Sunday. And this is his last chance to see us before we go on the road for 10 days."
"Well, we can't really start without him," added Rodriguez, who had earlier called Steve's cell phone and house, but received no answer. "How would that look?"
The third-place Marlins, who have struggled with attendance for some time, have come to count on Steve to lovingly call out players' names, start "Let's go, Marlins" chants, and boo the visiting team. In addition, the team was reportedly excited to see what Steve would write on a sign to make fun of Cardinals first baseman Albert Pujols.
Steve is the only person to attend a Marlins baseball game in eight years.
"I seriously wonder where he could be," said Marlins second baseman Dan Uggla, who suggested the team warm up a little longer to give their fan extra time to show up. "I know his daughter has a dentist appointment, but I'm pretty sure that's next Sunday. Shoot, we'll have to push the game back to 3."
As the delay grew to an hour, dugout sources expressed increasing concern. Players discarded the possibility of Steve being stuck in traffic, as the streets around the ballpark are all but deserted on game days. They also said it was unlikely Steve had been called into the auto parts store where he works, because it is closed on Sundays unless they are doing inventory. Players noted that inventory, however, is always at the end of the month. A check of Steve's Facebook page revealed no family birthdays.
Marlins executives emphasized that in the rare cases when Steve has been delayed he has always been careful to call or at least send an e-mail to Marlins owner Jeffrey Loria.
"But today, nothing," said Marlins president of baseball operations Larry Beinfest. "It's weird. He seemed pretty happy at the last game, when we snapped a losing streak by beating the Cardinals, so you'd think he'd be extra excited."
"Man, I hope nothing's wrong with Lisa," Beinfest added.
Despite Steve's tardiness, the Marlins were not especially concerned that their loyal fan would stop coming to games altogether.
"Steve's not like Lloyd or Fowler was," Marlins third baseman Wes Helms told reporters. "He knows all the names of the pitchers, he knows all about the '97 World Series team, all that stuff that a lot of the guys on the team don't even know. Unless something's wrong, he'll be here. I mean, he has to come. He knows full well that today's promotion is Give Steve a Bat Day."
"I really hope he makes it, because sometimes to cheer myself up I look over and try to pick his face out from all the empty seats," pitcher Will Ohman said. "Guys like Steve are the reason I play my butt off. Although I guess in this case it's more just Steve and not so much guys like him."
Meanwhile, St. Louis Cardinals players and coaches were sympathetic to the Marlins' situation, agreeing to take some extra batting practice. However, manager Tony LaRussa said that because the team's plane was scheduled to leave at 7, they could only wait for Steve for another hour, tops.
"Oh, I think that's him pulling into the parking lot," catcher Ronny Paulino said. "Nah, false alarm. Should have know that wasn't him. Steve doesn't drive an SUV."