LOS ANGELES—Calling the experience "a true honor" and "the opportunity of a lifetime," the infected synovial fluid recently drained from Kobe Bryant's right knee told reporters Monday that there is no other basketball player it would rather have accumulated in.
Describing itself as humbled and privileged to have affected the NBA All-Star's mobility for even so short a time, the contaminated collection of mucin and albumin said it would always cherish every moment it spent collecting in Bryant's appendage, from the initial stages of infection to its last moments of arthrocentesis.
"Kobe Bryant's is the knee all joint fluids dream of building up in," the semi-viscous mix of blood and uric acid said during a press conference at the Lakers' training facility. "There were times, especially during the first two rounds of the playoffs, when I had to pinch myself and say, 'Holy crap! You're inflaming Kobe Bryant's right knee! Kobe Bryant. Not some role-playing knee like Andrew Bynum's knee, or Kendrick Perkins' knee, but Kobe freaking Bryant's.'"
"People have asked me if I would have rather built up in LeBron's knee instead of Kobe's," the fluid added. "And while it would have been exciting to help deteriorate LeBron's articular cartilage, Kobe is an NBA champion."
According to the infected fluid, it considered accumulating in the former MVP's knee a "one-shot deal," and tried to enjoy every wince and buckle it caused as if it were the last.
G/O Media may get a commission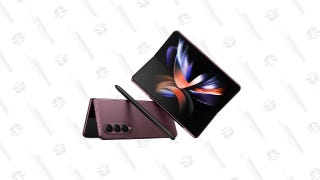 Save Up to $300
Galaxy Z Fold4
The fluid also personally thanked Oklahoma City forward Kevin Durant for pushing the Lakers' first playoff round to six games, saying that the unexpectedly long series allowed it to really savor its time in Bryant's knee.
"I knew they wouldn't let me build up forever," the arthritis-induced fluid said. "So when I saw that 20-gauge syringe enter the joint capsule, I took comfort in the thought that I built up as best I could before I was sucked out."
Doctors close to the 1.2-ounce specimen said it began collecting in Bryant's joint cavities toward the end of the season, but didn't become inflamed and straw-colored until the playoffs. Beaming with obvious pride, the non-Newtonian pseudoplastic material noted that it was the same fluid that accumulated during Bryant's 39-point performance in Game 2 of the series against the Thunder, and that it went on to become the very thixotropic liquid that contributed to the swelling of Bryant's knee throughout the Western Conference semifinals.
"Not bad for a fluid that just two months ago was nothing more than a subcutaneous element in a normal, uninfected synovial membrane," the particulate-rich residue continued. "Not bad at all."
Calling it "a wild ride while it lasted," the knee fluid said it would always have fond memories of its gradual buildup during plane trips to different cities, postgame interviews, and the Lakers' four-game sweep of the Utah Jazz.
"How many aggravated lubricin compounds can say that they were building up in an MVP's knee while he was leading his team to the next round of the NBA Playoffs?" it said. "Well, any fluid who follows sports will tell you there are only three: Willis Reed's knee fluid in 1970, fluid from Magic Johnson's busted bursa sac in '85, and Jordan's fluid in 1997."
"Pretty good company, if you ask me," the fluid continued.
While the diseased liquid admitted that it would have been able to build up even more hyaluronic acid had Bryant not sat out during between-game practices, and had the team's trainers not been so meticulous in icing the knee down after games, the fluid said those were just minor setbacks in what was ultimately the experience of a lifetime.
"If my young, healthy, polymer-of-disaccharide self ever caught me actually complaining about harmfully building up in Kobe Bryant's knee, then in about two seconds it would disperse me onto the connective tissues out of sheer disgust," the cloudy sample characterized by an abnormal level of white blood cells said. "Some fluids only get to build up in obese, office-softball-league players and that's as far as they ever go. I consider myself very lucky."
"Now, would I like to be the fluid that is currently building up inside Kobe's knee during the Western Conference finals?" the fluid added. "Absolutely. I'd be a lying specimen jar of medical waste if I said I wouldn't. But I had my turn, and frankly, I'm exhausted. It's time for another fluid to get its chance at glory."