CAMP SPRINGS, MD—Despite sprinting through the Andrews Air Force Base south terminal, President Bush narrowly missed his Air Force One flight to Boise earlier today after arriving just moments after the plane's doors had closed.
The 12-person crew was not able to accommodate the president due to strict federal guidelines requiring all passengers to arrive at their departure gate 15 minutes prior to takeoff—guidelines flight officials say are especially important considering heightened security around the president. When Bush inquired into the possibility of being placed on standby for Air Force Two, the exasperated commander in chief was informed that the flight was full and Vice President Dick Cheney was unwilling to give up his seat.
CDC Issues Dire Warning That Nick Cannon Is Feeling Horny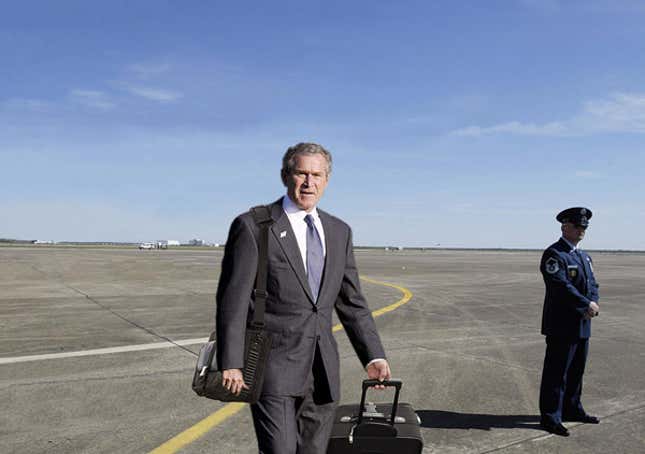 "I understand it's frustrating to miss a flight," said Air Force One Chief Boarding Coordinator Derek Morganson, who attended a special meeting with the president to discuss the government-funded airline's exchange policy. "But Mr. Bush has to understand that we are entrusted by the White House with a very important job, and we can't make exceptions for one person just because it suits his schedule. No airline would operate like that."
Morganson was able to offer the president a standby seat on an affiliate airline's 3 p.m. flight to Reno, though Bush said he failed to see "how that helps [him] in the slightest."
After concluding a "pointless talk" with desk personnel at Gate 14, Bush took questions in the air-base food court, where he denounced the airline's actions.
"This is so typical," said Bush while eating a $9 chicken-Caesar-salad wrap. "Of course, they had all the time in the world to check my bags and they told me I'd be all set, but all of a sudden, I'm not allowed on the plane. Now my biggest suitcase is halfway to who-knows-where and I'm stuck in this stupid airport. Don't these people ever communicate with each other?" said Bush, who refused an offer to put him up at a nearby Radisson Hotel for the evening.
"Plus, I just remembered that my charger is in that suitcase, and I'm down to one bar on my cell phone," Bush continued. "How the hell am I supposed to call Laura?"
Bush told reporters his heart sank when he saw the departure–arrival monitor and realized that he had missed the last boarding call: "For Christ's sake," the president said. "This is a nightmare."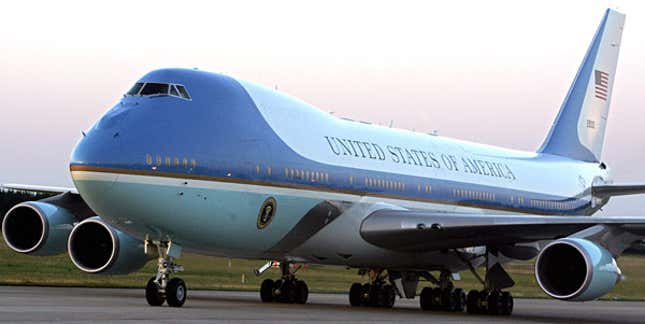 Although he did not offer a specific cause for his delayed arrival at the airport, the president mentioned rush hour and "losing the goddamn keys again" as factors. Bush admitted he may have misjudged the amount of time needed to pass through security, especially with thousands of military personnel heading out on international flights. But he maintained he had arrived at the gate while the plane was still on the tarmac, and said it would have taken the crew "all of two seconds" to let him board the Boeing 747-200B aircraft.
Bush, who describes himself as a "perpetual traveler" who had exclusively used Air Force One for both work and his frequent vacations, said he will begin looking into other carriers.
"They just lost their best customer," said Bush after purchasing a Robin Cook novel and settling in at Runway Café. "I remember when Air Force One used to care about customer service. Now it's all about their bottom line."
Air Force One representatives expressed regret for any inconvenience experienced by President Bush and assured him that the many useful comment cards he filled out will be seriously considered, even though "Air Force One Presidential Air Transport wasn't the one who missed his flight."
Bush, who is scheduled to attend tomorrow's Governor's Association Luncheon in Boise, said the airline's treatment of him was "inexcusable and ridiculous."
A ticket agent did eventually arrange an itinerary to get the president to Boise, first putting him on a shuttle flight aboard Marine One to Pittsburgh, where he will transfer to the cargo hold of a C-130 air transport delivering three Apache helicopters to Edwards Air Force Base in California, before riding with a military-supply-truck convoy to an undisclosed location in the Nevada desert, where he will then accompany test pilots from Fallon Naval Air Station to the Idaho border and pick up a rental car paid for by Air Force One.
"Not only did I miss my flight, but now I'm going to miss my connecting motorcade to the Idaho Capitol building," said Bush. "Yeah, I'll make the meeting, but I'll never get there in time for my keynote address or the seafood brunch."