And so that's the Vermeil Room, ladies and gentlemen. Wasn't that tableware just spectacular? Now, we've just about reached the halfway mark of our official White House tour, but don't worry, there's still a lot left to see. Between the Green Room, the Red Room, the Blue Room, and the East Room, we've got some of the White House's most sumptuous interiors ahead of us. However, before we move on to the next room, I thought you folks might enjoy something very special today. Now, this isn't something we usually do on these tours, but folks, what do ya say we go tickle the president?
Sound good? Okay, follow me right this way, ladies and gentlemen, and we'll catch the President of the United States completely unawares and give him the ol' tickle treatment. Boy, you folks are really in for a treat today.
If you'll kindly step over the velvet rope and through this back doorway, we'll continue on to the West Wing corridor. Be very quiet now. As you all know, this leads to the Oval Office and the president's private study, where he can often be found working quietly away from the public eye. That's where we'll burst in, tackle him to the ground, overpower him with physical force, and tickle him under his arms.
Once again, I just want to reiterate at this juncture that kicking open the door to the president's private office, throwing him to the ground, stifling his screams, and tickling him senseless isn't something we usually do on White House tours. In fact, I don't think it's ever been done before. But you know what? I like you guys. You guys are a great group, and why not make this wonderful tour even more special, am I right?
Oh, and you two in the back? You're the two biggest, so I'm going to need you to volunteer to hold the president's arms because he's probably going to start flailing around pretty bad.
G/O Media may get a commission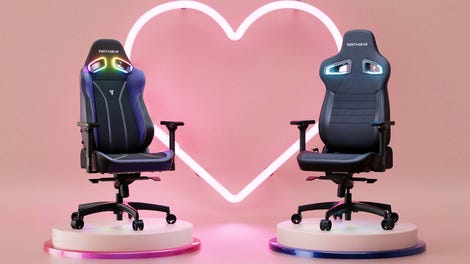 Up to $150 off
Vertagear Gaming Chairs
Now, if you'll all do me the honor of crouching down here and following me through the door on the left, we'll be almost inside the Oval Office. Let's try to use our whisper voices from here on out, okay? Great. Once we're inside the Oval Office, assuming we're not taken down by Secret Service first, we're going to need to bolt the door firmly behind us. Uh, miss? In the red sweater? Would you be willing to do that for us? Thank you so much.
Also, when we enter the room, note the antique Resolute desk the president will be sitting behind. It was a gift to former president Rutherford B. Hayes from Queen Victoria herself!
One more thing: Folks, before we charge into the Oval Office, seal all exits, wrestle the president to the ground, and tickle him until such time as he is rescued, I just want to remind you all not to be discouraged if he doesn't laugh at first, or in fact seems highly alarmed and completely unamused. Remember, the president is, as you can imagine, a very busy man, and we'll be breaking into an area completely off-limits to the public, pinning him down, and repeatedly rubbing sensitive parts of his body, so he likely won't be able to warmly greet each one of you individually. In fact, he will likely be trying to physically ward you off in a fit of panic and terror.
But don't let that stop you all from tickling him with all your might! Seriously, folks, do not stop tickling him until such time as you are forcibly removed from him or shot. Those who make it out of the room alive are welcome to escape into the Rose Garden where you will almost certainly be taken down by snipers, whom you'll notice positioned at each corner of the White House roof. If you're curious, be sure to turn around while you're running and get a glimpse of them before they take aim.
Well, ladies and gentlemen, we're almost ready to go. As you've all no doubt noticed, I'm literally shaking with excitement right now. I've sweat through my shirt, in fact. Folks, you are witnessing the last few minutes of my career here. And possibly my life. Isn't this exciting? Such a special treat.
Okay, folks, you ready? One..two…three!