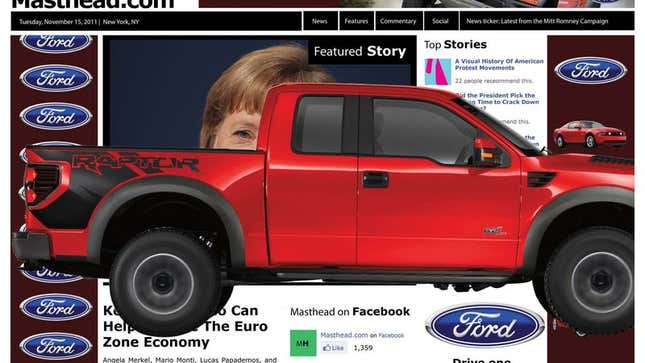 DEARBORN, MI—Ford Motor Company officials chastised news and commentary website Masthead.com Friday, conceding they were embarrassed to be associated with a publication that would allow the entirety of its award-winning content to be hidden behind splashy, distracting ads for the Ford F-150.
This Week's Most Viral News: September 29, 2023
According to the car manufac­turer, Masthead 's decision to allow the "garish" full-screen advertisement—in which a red pickup speeds across news articles, overrunning them with tire-tread marks until readers manage to find the tiny "close" button—suggests the media outlet has zero respect not only for itself, but also for the amount of work that goes into its astute political and cul­tural coverage.
"They should be ashamed of themselves for letting us come in, plaster our logo everywhere, and, for a measly 50 grand, pretty much destroy the reputation they've worked so hard to build," said Erin Robertson, an ad buyer for Ford who scoffed when Masthead immediately agreed to all of her terms and even sug­gested its creative staff could write articles mentioning the F-150. "Their coverage of the debt crisis has been pretty insightful, but then they cheapen it by allowing us to completely obscure their writing with a video of a truck bounding over sand dunes."
"If I were a daily visitor to their site, I sure as hell wouldn't put up with our ads," Robertson added. "It just smacks of desperation, as if they're willing to throw away years of reader loyalty for an amount of money that—let's be honest here—pretty much amounts to peanuts."
Once users close the initial ad, a massive Ford banner appears, framing Masthead 's other­wise tasteful design with clashing colors that, according to Robertson, create an effect so nauseating it must lead readers to conclude the website's creators don't care if their home page looks like a "cluttered pile of shit."
Questioning whether Masthead had any dignity left at all, Robertson blasted the site's willingness to allow the top third of its front page—its newest and most popular content—to be pushed down-screen and replaced by an intrusive "What Kind of Ford Are You?" quiz.
Numerous other Ford employees described Masthead as "pathetic" and "in serious need of some backbone," saying the publication now seemed more interested in featuring the F-150's leasing options and fuel-economy rating than its own widely heralded media criticism and political commentary.
"I'd have a little more respect for them if they pushed back every once and a while and said, 'No. These ads are disgusting and diminish the quality of our work,'" Ford creative director Armando Cole said. "Because they'd be right. Our goal is to add as many barriers as possible between the user and the site's actual content, and Masthead lets us do that at every turn. I've been trying to read their brilliantly reported series on the Syrian uprising, but I always give up whenever that awful truck drives across the screen."
"Why don't they just make their whole site automatically redirect to Ford.com, for Christ's sake?" Cole added. "I shouldn't even joke about that. They'd probably agree to it and then offer to have their editorial team help write copy for us."
In a statement released early Saturday, Masthead sales director Gina McCollins said that while such ads are highly annoying and guaranteed to drive users away, online publications are left with little room to dictate terms, given the fierce competition for ad dollars.
"It pains me to have to open wide and let anyone who has enough cash shit down the throat of our brand," McCollins said. "Then again, this could all go away—the kowtowing to advertisers' every whim, the horrendous reading experience, those godforsaken commercials that play automatically and send users scrambling for the volume control—if people were willing to pay two measly fucking dollars per month for our content."