NEW YORK—Representatives from the sports drink manufacturer Powerade announced Wednesday that Nisroch, the ancient Assyrian god of agriculture, has been resurrected from the depths of Assyro-Babylonian mythology to serve as the key marketing figure for their newest product, Nisroch: Eagle Heart X-TREME WHIRLWIND!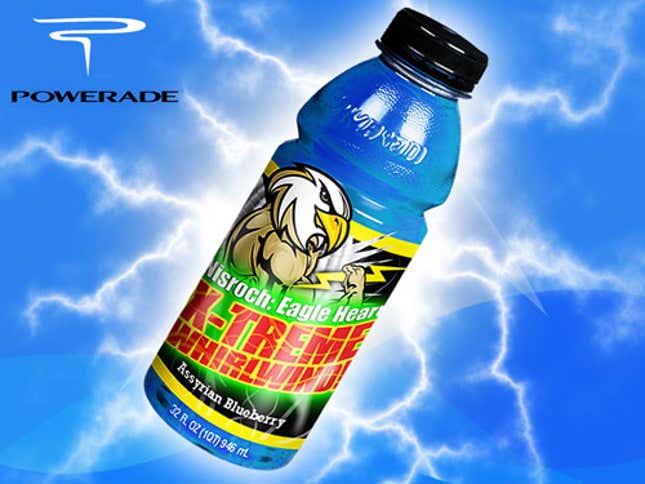 This Week's Most Viral News: September 29, 2023
According to officials, the eagle-headed farming deity, once a source of strength and comfort to ancient Assyrians, is the perfect symbol for athletes looking to take their game to the next level.
"The name Nisroch is synonymous with power," a statement from Powerade read in part. "And this drink, with its new X-TREME WHILRWIND!™ formula, will allow athletes to experience what it must have been like for Nisroch to soar over Assyria and bring those who dared to challenge him to their knees."
"Just like Nisroch needed courage to protect all who worshiped him," the statement continued, "Eagle Heart will give you the eagle-like courage you need to produce extreme results on the court, on the baseball diamond, or in the weight room."
According to Powerade executives, Nisroch, revered by ancient Assyrians for bringing rain to nourish their crops, will be used to represent such new product features as supernatural electrolyte replenishment and rapid liquid-energy delivery.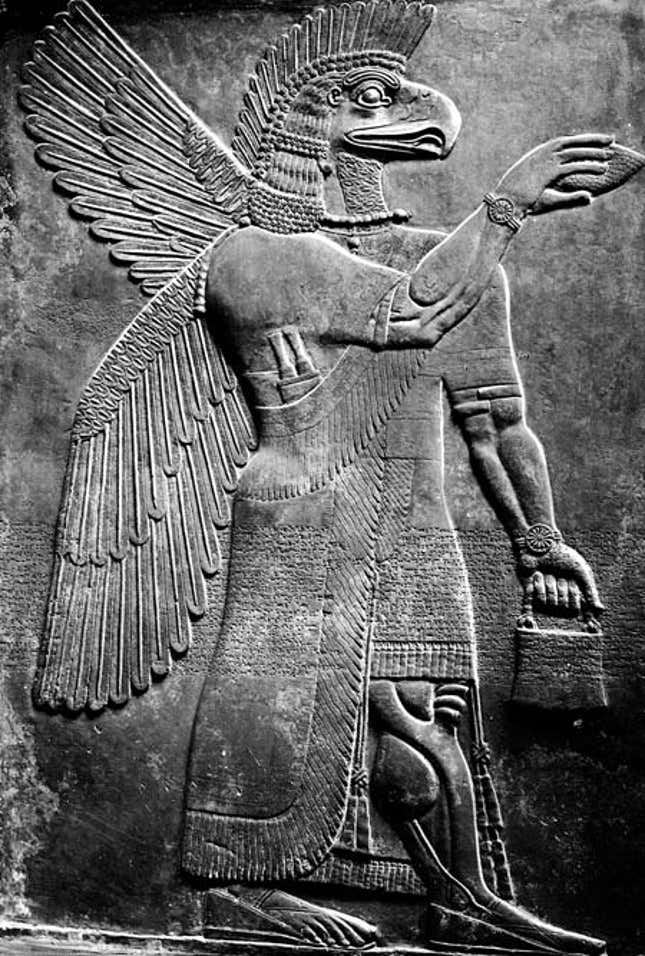 Depicted in ancient art as an amiable figure sprinkling water on a sacred tree, the god is most famous among theologians as the deity King Sennacherib prayed to when he returned from his campaigns in Israel. Powerade representatives said it was Nisroch's pronounced calf muscle in various depictions from the eighth century B.C. that initially attracted them to the once highly revered farming idol.
"We knew we definitely wanted to do something with eagles, and when we saw that image of Nisroch, he looked like he might as well have lightning bolts in his hands instead of a water pail," Mitch MacCavoy, creative director of the Nisroch advertising campaign, told reporters. "That's why we gave him lightning bolts."
MacCavoy went on to say that he hired a design team to "sleek up" the Assyrian god and ordered them to make his feathers look like silver razor blades that "swirl around" all over the place.
"Nisroch helped the Assyrians destroy any obstacle in their path, just like Powerade does for its athletes," MacCavoy said of the idol, who was commonly prayed to in times of drought. "That's why only a serious athlete should drink Eagle Heart. If you're not serious, not willing to work hard to reach your apex peak like Nisroch, you might as well just go home."
In a commercial recently screened for test groups, a muscular eagle-like man, presumably Nisroch, is seen flying over what appears to be an ancient city. The eagle then plummets to the earth and plows through the roof of a building where men in loincloths are working out with modern weight equipment. After drinking an entire bottle of Eagle Heart X-TREME WHIRLWIND, Nisroch works out on various machines, pushing himself harder and faster as the X-TREME WHIRLWIND formula presumably kicks in.
The commercial concludes with Nisroch destroying the gym with a lightning bolt, followed by the appearance of the tagline, "The Awesome Power of Ancient Assyria in a Single Bottle."
Representatives at Powerade said they are excited to unleash Nisroch and will begin shipping it to stores next month.
Initial product testing has reportedly exceeded expectations.
"I don't know much about Assyria, but that bird on the bottle looks pretty cool," said Gold's Gym member Jarrod Keller, who was given a sample of the product before his workout Friday. "And I think that whirlwind stuff definitely helped me get in those extra few reps."