NEW YORK—Troy Bartell, 22, former editor-in-chief of Boston University's student newspaper The Daily Free Press, said Monday that his once-prestigious paper is in "free-fall," and is now printing only "ridiculous, brutally incompetent shit."
"This is lousy, lousy journalism," said Bartell, who still scours the paper's online edition for typos despite graduating in May 2006. "The way they covered the School of Management's Casino Night this year was a slap in the face. Complete and utter fluff. Don't tell me what the people were wearing, damn it—tell me who won the raffle at the end of the night, and what the prizes were."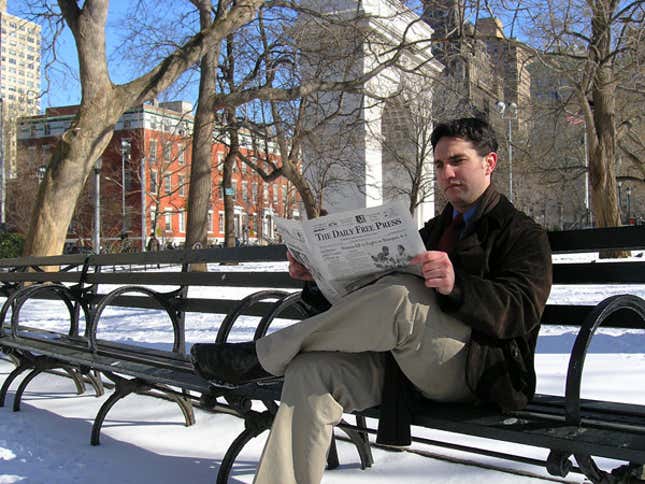 "You can tell that the new people onboard just don't give a shit, and believe me, that sort of thing starts at the top," Bartell continued.
Bartell, a journalism major who was promoted to editor-in-chief  in January 2005 after one year as Campus Affairs editor, now works as a part-time receptionist for a Manhattan public-relations firm. Bartell had a distinguished career at the Free Press, breaking the news of the appointment of a new English Department chairman in 2004, and writing a three-part series on the revamped trash-can design in the student union.
Believing that his tenure "set a strong, rigorous example for quality news writing," Bartell, who often travels back to Boston to attend college parties thrown by members of his old newspaper, is saddened that none of the staff has followed his example. Everything in the paper, he claims, from the coverage of the school's annual Activities Expo to the campus radio station-sponsored date auction, has been "complete bullshit."
"Without fail, every time I look at the Free Press, I just cringe with embarrassment," Bartell said. "Their reporting is so lax, they might as well print propaganda straight from the BU president's office. Oh Christ, don't give them any ideas, Bartell."
Bartell was particularly critical of the coverage of the School of Engineering's "Welcome Back" Barbecue in September, saying that none of the hard-hitting questions were asked, such as whether vegetarian alternatives were available.
Bartell's fears of a decline in journalistic integrity were further augmented by a profile of the new dining-services director, which failed to include information about the recent increase in meal-plan fees and the new two-pieces-of-fruit-per-student policy.
"[New Editor-In-Chief] Casey [Aclin] has been a real disappointment," Bartell said. "In a story last Monday, instead of saying 'Dean of Students Charles Baker,' it just said 'Dean Baker.' That's a blatant disregard of Free Press style rules that never would have flown on my watch."
"Never," he continued.
But the lowest point, Bartell said, came in December during the Student Union Assembly elections.
"I still have a lot of sources at the school—a lot," Bartell said. "From Day One of that fraudulent campaign, more than half of the candidates had been illegally leafletting the student union, which could result in fines. And what did my paper do with that bombshell? One graph in one story, no more. Talk about burying the lede. Where's the drive, the curiosity here?"
The former editor-in-chief has repeatedly volunteered to return to the Free Press offices and educate the staff on proper news-writing and copyediting techniques, but no one has yet taken him up on his offers.
Bartell said he's concerned for the future of the publication that he described as "a labor of love that sustained me through my college years."
"At this rate, I wouldn't be surprised if the entire student body began ignoring the news content all together, and only picked up the Free Press to do the crossword puzzle," Bartell said.