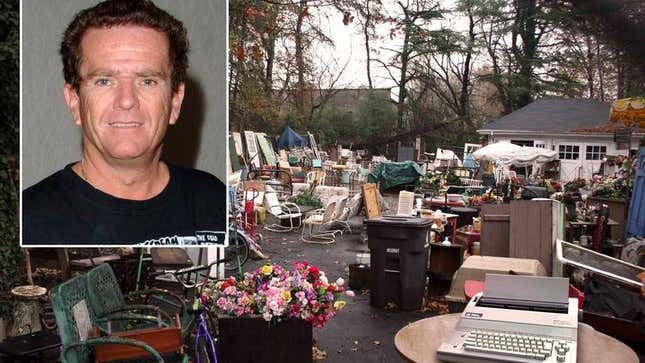 PHILADELPHIA—Butch Patrick, 58, a former child actor who appeared on television's The Munsters, has announced plans to write an autobiography on the word processor he just purchased for $11, yard sale sources confirmed Saturday.
This Week's Most Viral News: September 22, 2023
Patrick, who from 1964 to 1966 played the role of Eddie Munster on the CBS sitcom about a family of monsters, discovered the Smith Corona personal word-processing typewriter at a rummage sale, where it was sitting on a blanket in the grass. He immediately picked up the device and reportedly carried it around while browsing to prevent another savvy customer from swooping in and buying the piece of used electronic equipment.
"I'm really lucky I didn't get here five minutes later, because I'm certain it would have been long gone," said Patrick, adding that he got a great deal on the word processor and that it would be "perfect" for finally getting his memoirs down on paper. "This thing probably costs a bunch of money at RadioShack now, but I got it for a steal. And the best part is, I even got a discount."
"There are perks to being famous," Patrick continued.
According to yard sale organizers, Patrick was very excited about the electronic typewriter, approaching several strangers perusing items on a folding table to explain the machine had a couple of small scratches but was otherwise in "pretty great" condition. Patrick also pointed out on numerous occasions that the word processor had a screen that displays several lines of text at once.
"This thing is cool, because if you mess up, it's not a problem, you just use the backspace button to erase the mistake," said Patrick, who reportedly told customers the technology would cut down on his autobiography's production costs, because he would not have to buy correction tape. "It's loaded with features that are going to make my book look tremendous. You can change the margins, center words on the title page."
"When you're in show business, you need everything to look very professional," added the man whose last major role was in 1971 on the Sid and Marty Krofft show Lidsville, in which he played a teenage boy who magically enters a world of living hats.
Patrick also informed customers his new purchase would significantly expedite efforts to complete the first draft of his autobiography.
"I've already got about 30 pages down on hotel notepads—a lot of the first season Munsters stuff," Patrick said. "So I just need to transfer it to this. It also has a floppy disc drive so you can save the work and don't have to retype everything if you lose a chapter."
While Patrick assured everyone at the rummage sale his autobiography would compile numerous anecdotes from his early years working on a hit TV show, the 58-year-old said the book would primarily focus on his life after television and contain stories about struggling with drug and alcohol abuse, finding work in Hollywood, and appearing at promotional events and meet-and-greets nationwide.
Saying it was highly unlikely publishers would pass on a chance to buy his life story, Patrick explained that even if his manuscript was rejected, he would still be able to use the word processor to print out copies he could sell at comic book conventions and memorabilia shows.
Linda Brunner, who hosted the yard sale on her front lawn, said Patrick repeatedly mentioned that he starred in The Munsters before inquiring about the price of the typewriter.
"He kept saying how people were always asking him his favorite thing about being on The Munsters or if things changed on the set after his sister was replaced by a different actress or something," Brunner said. "I told him the word processor was 14 bucks, but then he just got this crestfallen look on his face, so I gave it to him for $11. He got really excited when I threw in about 40 sheets of typing paper."
"He seemed interested in a sandwich maker I was selling, but just sorta shook his head and mumbled something like, 'You can't pull it off, Butch,'" Brunner added.
Sources estimated Patrick "hung around" the yard sale for approximately an hour after purchasing the word processor, eventually buying two button-up shirts and encouraging shoppers to attend this year's GhoulCon.