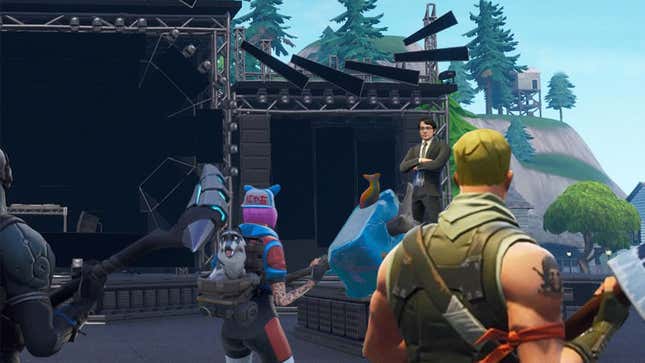 Well, Fortnite fans, let's hope you were logged on this morning, because something epic just went down off the southeast coast of Paradise Palms. After weeks of leaking teasers, Epic Games finally unveiled their latest large-scale virtual experience: At 10 a.m., they hosted a massive in-game seminar where Martin Shkreli taught users how to jack up drug prices!
This Week's Most Viral News: September 22, 2023
Uh, yes, please! How many other video games let you watch the former CEO of Turing Pharmaceuticals explain in detail how he raised the price of Daraprim from $13.50 to $750 per pill?
Over 20 million attendees gathered inside Fortnite earlier today to watch Martin Shkreli's avatar speak on an expansive stage, where he clicked through a virtual powerpoint describing exactly how he price-gouged. To witness the spectacle, all you had to do is open up Fortnite and then airdrop down into the new Shkreli Island map, where the infamous financier livestreamed straight from the prison cell where he's currently serving a 7-year sentence for securities fraud.
As Martin Shkreli spoke, players could be seen celebrating along using the game's new "Pharma Bro" emote, which makes your in-game avatar cackle greedily while clutching a stack of drug patents. Fortnite's digital store also reportedly sold exclusive cosmetic items like the Shkreli prison jumpsuit and the new Wall Street Bandito hang glider, which is woven out of $100 bills earned by overcharging Medicaid.
So, thank you Epic Games for putting together this once-in-a-lifetime event with Martin Shkreli. And don't forget to log into Fortnite at the same time next week, because Shkreli will supposedly be returning to play his $2 million Wu-Tang album!