ATLANTA—Savvy, experienced business traveler Donald Meyers, 46, knows a great out-of-the-way bar at O'Hare Airport's "B" terminal that's never crowded, the frequent flyer said Monday during a layover in Atlanta.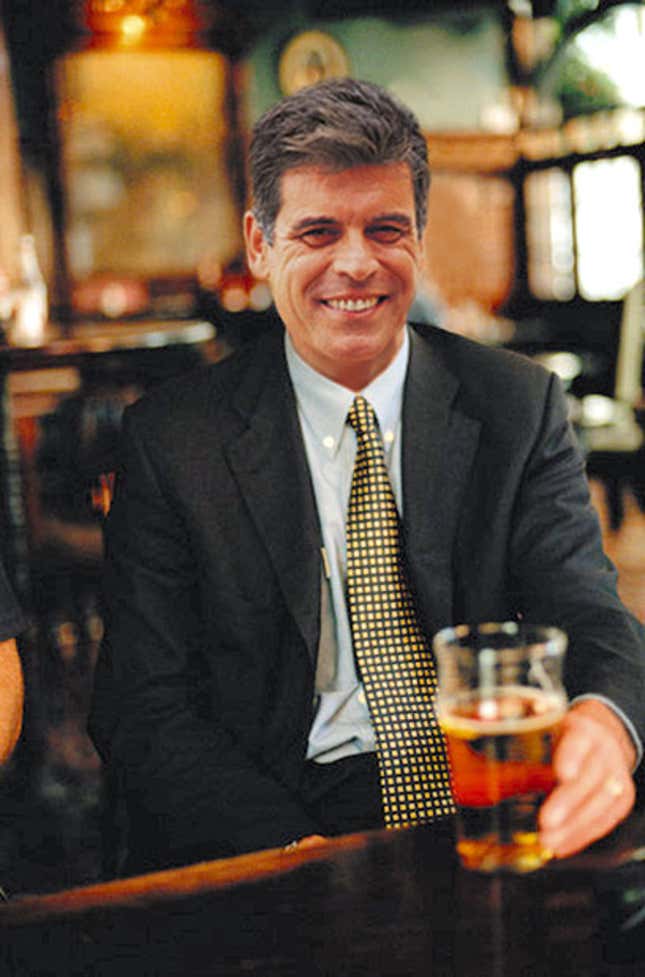 Edgelords Explain Why They Love Elon Musk
Meyers, a project manager for Motorola who is on the road an average of 150 days a year, discovered the Windy City Pub during a three-hour layover at O'Hare in May 2001. He said the bar is one of his top 10 frequent-flying treats.
"I don't say this often, but visiting this little bar is actually worth extending your time between flights," Meyers said. "It's never crowded, the chairs are incredibly comfortable, and it's set back a bit from the terminal walkways, so it's not nearly as loud as your average airport bar. I'd have to put it up there with the Cheers bar at Detroit Metro and the one they used to have at the end of the United terminal at Denver's old Stapleton International."
Meyers also had high praise for Tomas Cordero, the Windy City Pub's weekday bartender.
"Tomas is great," said Meyers, who, when not on the road, lives in St. Louis with wife Linda and their two sons Cody and Cameron. "He puts something—I don't know what—with a little extra zing in the Bloody Mary mix. Everyone knows you shouldn't drink before flying, but if you knew this little hidden gem, you'd probably be willing to chance it."
With an estimated 2,000 flights under his belt in his 23 years of business travel, Meyers claims to be "one of the nation's leading authorities" on airport amenities, and said he is "more than happy" to pass along knowledge and experience to his fellow travelers.
"If you don't fly often, there's lots of stuff you probably don't know," Meyers said. "Like how much better the Northwest WorldClub lounge is in Dallas than the one at most other airports—especially La Guardia. Or how you can do on-line check-in with Continental, but that's only if you have no carry-ons. Or how you should use your Delta SkyMiles card on weekends, because you get double miles on all purchases. Those are the kind of things you may not know if you're not a seasoned traveler like myself."
Anna Helsing, 33, sat next to Meyers on a recent St. Louis-Minneapolis flight.
"I was trying to get comfortable in my seat when [Meyers] launched into this whole thing about how I should avoid those U-shaped neck pillows," Helsing said. "When I told him I didn't know what he was talking about, he showed me one in the SkyMall catalog and explained that they cramp your neck worse than the regular airline pillow or a folded-up blanket. I wasn't about to use one, but he felt the need to warn me, anyway."
Catherine Appel, who sat next to Meyers on a recent San Francisco-Los Angeles flight, said he spent a majority of the trip assessing the hotels situated near various major U.S. and Canadian airports.
"Apparently, the Newark Airport Westin is one of the worst in the country," Appel said. "I have no idea if that's true, but he seems to know. I mean, if you heard this guy talk: He advised getting the kosher meal because it's always better. He gave me tips on getting business-class upgrades. He bragged about getting his oversized luggage onto planes as carry-on because of some weird routing loophole he knows about. And he went on and on about this magic, uncrowded bar at O'Hare, which he made sound like an oasis in the middle of the desert."
"I'd shoot myself if I ever knew that much about airport hotels and bars," Appel added. "Thank God I don't have to fly as much as that poor loser."