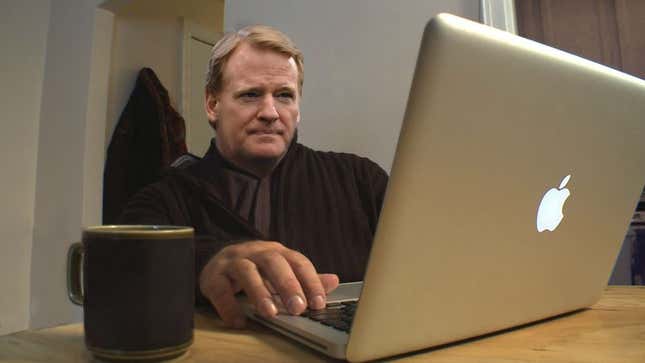 NEW YORK—NFL commissioner Roger Goodell was reportedly growing increasingly annoyed Thursday while frantically searching the Internet for a live stream of the Bears, Packers game, expressing frustration that his cable provider didn't carry the "bullshit NFL Network."
Edgelords Explain Why They Love Elon Musk
"This sucks," said Goodell, who sources confirmed angrily slammed his fist on the table when dozens of pop-up windows opened on his laptop's screen after clicking a link for the game on the website Livenflstreaming.com. "Ugh, I'm missing the goddamn kickoff. Why can't a huge division game like this just be on NBC or ESPN?"
"I guess the NFL.com Game Center page is fine for checking out the stats and stuff," added Goodell. "But I want to watch the game not spend three and a half hours following the drives on that shitty little football field graphic. Plus the commentators on NFL.com are a bunch of clueless dicks"
Claiming that it was impossible to find a decent live stream of the Bears, Packers game, Goodell complained numerous websites that promised to illegally broadcast NFL contests had "sketchy" requests for credit card information.
The exasperated NFL commissioner, who told reporters that he was encouraged after downloading and installing an allegedly missing plug-in for the video player on Chanfeed.com, became incensed when the live stream failed to work and instead displayed a message about content being removed for copyright infringement.
"Christ, I just want to see Jay Cutler get knocked on his ass by Clay Matthews," Goodell said. "The NFL finds so many ways to dick over loyal football fans. Honestly, I'd be happy to go to the NFL website and pay like 10 bucks to watch this game live. They'd make a shit ton of money and it's still would be way cheaper then going to a bar."
"Are they worried about ad revenue or something?" Goodell added. "They could show commercials. I don't give a flying fuck."
Goodell told reporters that the NFL would probably never implement a brilliant sales model that allowed fans to purchase individual games for viewing, because DirecTV had a "fucking monopoly" with their "total rip-off" NFL Sunday Ticket.
"It pretty much blows for fans who live outside the broadcast area of their favorite teams," Goodell said. "Until they fix this mess, the NFL is just forcing people to watch illegal live streams."
"I should just get my buddies to chip in for the NFL Sunday Ticket and then help fans out by streaming games online," continued Goodell.
Goodell confirmed that he found a "half-assed" feed of the Bears, Packers game on Justin.tv, but said the footage was pixilated and frequently froze every time the action started.
As of press time, the NFL commissioner had abandoned the fruitless attempt to watch the game online and was masturbating to a 1994 team photo of the Buffalo Bills.