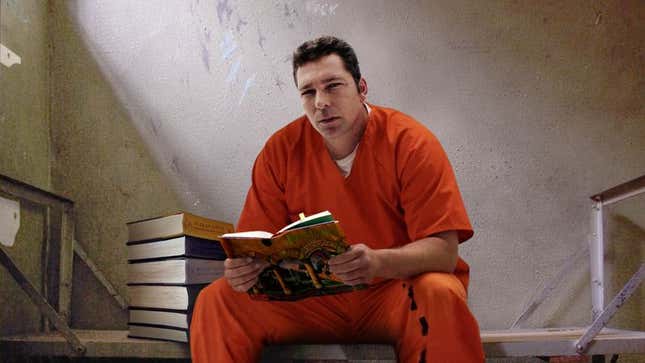 HUNTSVILLE, TX—Convicted murderer and death row inmate Robert Insterman, 45, announced Thursday that, fuck it, he might as well read the whole goddamn Harry Potter series of bestselling young-adult novels.
FBI Investigating Fourth-Grade Kid Who Said He Has Seen Over 200 Dead Bodies
"I mean, what else am I going to do? Don't see why I shouldn't just read these fuckers," said the man convicted of abducting and killing a 26-year-old woman, adding that the novels' successful combination of fantasy and coming-of-age genres "couldn't hurt" in his efforts to distract himself from his forthcoming execution. "I got halfway through the first book while waiting to see if they'd hear my appeal, and I thought it was pretty good. I guess I'll be reading the rest of them now."
Insterman, who forced a woman into his SUV at a highway rest stop, brutally bludgeoned her to death with a tire iron, and dumped her battered body in the desert outside of El Paso, TX, admitted to reporters that he had never planned on reading J.K. Rowling's popular series chronicling the education of a pupil at the Hogwarts School of Witchcraft and Wizardry.
"To be honest, it wasn't really on my radar, but at this point I don't have a whole lot of options left, so why the fuck not?" said Insterman, thumbing through a dog-eared copy of Harry Potter And The Chamber Of Secrets. "I'm not a very fast reader, so it will probably take me a while."
G/O Media may get a commission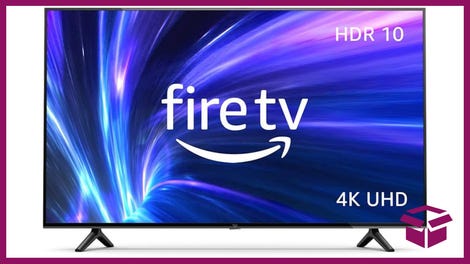 42% Off
Amazon Fire TV 50" 4K Smart TV
"I can't say I'm really into all the spells and potions and magic stuff," Insterman added. "But whatever. I got some time to burn."
Although Insterman's execution date remains undetermined, the inmate was optimistic that he would complete the series about the wizarding world before a cocktail of lethal chemicals is injected into his forearm, ending his life.
"I double-checked, and the prison library has a copy of each book in the series," said Insterman, noting that Harry Potter And The Deathly Hallows had been published after his arrest. "That bastard Alejandro has book three checked out right now, and I swear to God I'll snap his neck if he doesn't return it."
Insterman, who was implicated by DNA samples found on the desiccated corpse of his victim, told reporters that the part in Harry Potter And The Sorcerer's Stone "when Harry's broomstick went all crazy during the first Quidditch match" was "pretty fucking fun."
In addition, the death row inmate who has been in trouble with the law for decades, first serving time at age 15 for assaulting a truancy officer, claimed he "sure as shit" couldn't think of a better way to spend his final days than poring over J.K. Rowling's beloved tales.
"I'm outside reading most of the afternoon, then I get in a few more pages after dinner, and I usually have an hour or so to read in my cell before lights out," Insterman said. "If I weren't sitting around reading Harry Potter, I probably wouldn't be doing jack shit."
Though Insterman got a late start on the series after serving several months in solitary confinement for stabbing a guard, many at the prison said they believed that, with good behavior, he would still have time to finish reading the million-word saga.
"If he doesn't get his library privileges revoked, I can't see what would stop him," said Huntsville Unit warden Dale McPherson, adding that his own children share an interest in the series. "There's a long list of prisoners slated for execution before him, so he's certainly got some time. And my little Charlotte read all of it in less than a year."
The seven-part series, which has enjoyed unprecedented success over the past 15 years among children and adults all over the world, drew Mr. Insterman's attention by being one of the few diversions available to him in the maximum-security prison.
"It's been a nice break from the routine here. I especially liked that cool part where Harry and his friends have to break wizard law and sneak that baby dragon out of the country," the diagnosed sociopath said. "But it sucked that they got caught and Harry lost the Invisibility Cloak."
At press time, Insterman had been brought before the penitentiary disciplinary board after shoving a piece of glass between the vertebrae of a prison librarian who refused to extend his loan on Harry Potter And The Goblet Of Fire.