BOSTON—Moments after the New York Yankees continued a month-long stretch that has seen them climb from the bottom of the AL East to pull within a once unfathomable four games of the first-place Red Sox by defeating the Baltimore Orioles Monday night, stunned and enraged baseball fans across America took a moment to shake their heads in disbelief and curse dejectedly at the relentless inevitability of Yankee glory.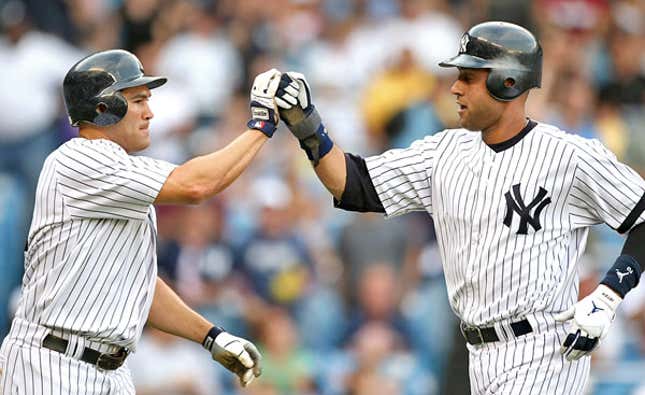 This Week's Most Viral News: September 29, 2023
"Fucking Yankees," said Marshfield, MA resident and longtime Red Sox fan Lawrence Broberg, echoing the sentiments of thousands of men and woman across the nation. "Every year. Every goddamn year."
The Yankees, coming off a decisive three-game sweep of the Central-leading Indians, have won nine out of their last 10 games, catapulting them to the top of the wild-card standings, restoring the team's infuriating confidence, and instilling a sinking sense of impending misery among all non-Yankee fans.
"It's like they can't lose," said Connecticut resident Gerry DiCenzo, who could only watch helplessly as the Yankees overcame a late Orioles rally to win their fourth straight. "They literally cannot lose. Suddenly no one can beat the Yankees. The Red Sox suck. The Orioles suck. Everyone sucks. Everyone suddenly sucks when they play the Yankees."
"Unbelievable," DiCenzo added. "Un-fucking-believable."
Sparked by the recent returns of phenom starter Phil Hughes and slugger Jason Giambi, the Yankees have their full roster healthy and together for the first time since April, which fans around the world have solemnly realized is perfect timing for the stretch run.
"It seems like every time the [sports] ticker comes up, they're winning 10-1," said Chicago resident Jeremy Killian. "You knew this was going to happen. You knew. Right when they got Clemens back, you fucking knew."
"Every time," Killian continued. "Every time with this fucking team. It's the same damn thing every time. You just, they never go away. You can't give them an inch. You cannot give them one inch."
"And Jeter…" Killian added, watching as the Yankee shortstop drove home the winning run in the bottom of the ninth with a softly tapped ball that barely dribbled past the pitcher's mound. "Fucking Jeter."
As the Yankees remain hot in August, the team continues to rely on GM Brian Cashman's strategy of stockpiling cheap, young pitching and assembling a group of talented role players to surround the team's superstars. In recent weeks, rookie reliever Joba Chamberlain and newly acquired utility man Wilson Betemit have stepped up and delivered in clutch situations, much to the frustration of nearly everyone.
"You got fucking Abreu all of a sudden going 3 for 4 every night," Boston citizen Mark Baker said of the Yankees' recent surge. "Fucking Giambi's back. A-Rod's hitting 500 fucking home runs a night. Posada, that bastard. You got Matsui, who's a Red Sox killer. Then there's Shelley Duncan, who no one even heard of till three weeks ago. Guy never hit a home run in his life, he puts on pinstripes and suddenly he's Babe fucking Ruth."
"And this Melky Cabrera guy," Baker added. "Where did this fucking guy come from? Him and Cano. They got guys coming out of the fucking woodwork."
"Fucking Yankee fans must be loving this," said New York resident and avid Mets fan Dave Julian, muting the Yankee broadcast to temporarily silence the grating sound of Yankee cheers. "The smug fucks. And those Yankee announcers. Why don't they root a little harder? They make me sick. Michael Kay. Bet Steinbrenner's laughing it up. Bought himself another fucking championship."
Although the Yankees' schedule becomes tougher in the coming month, with multiple series against the Tigers, Angels, Red Sox, and Mariners, most baseball fans have resigned themselves to the fact that the season is "pretty much fucking over."
"What the fuck can you do?" said Detroit citizen Terry Grey. "Every call. The Yankees get every break, the bounces all go their way. It's luck. They're lucky. They're so fucking lucky."
"Stupid," Grey added. "It's all stupid. Why play the whole fucking season if this is what's always going to happen?"
Despite the mixture of anger, resentment, and disbelief that has surfaced across the country during the Yankees' recent hot streak, most fans have been able to take some solace in the fact that the Yankees will be eliminated by the Angels in the first round of the playoffs.