'You Switched The Samples After Lentz Died,' On-The-Loose Physician Says During Medical Conference
CHICAGO—A routine conference of medical professionals turned unexpectedly dramatic Thursday night as Dr. Richard Kimble, eminent vascular surgeon and subject of an intense local manhunt, disrupted the downtown Chicago event to accuse a colleague, and by extension pharmaceutical titan Devlin MacGregor, of malfeasance in drug-testing protocol.
Ron DeSantis Announces He Will Live As Slave For One Year To Prove It Not Bad
The visibly angry Kimble, convicted last month of his wife's murder and now a fugitive from justice, shouted for roughly a minute at the event's keynote speaker, Dr. Charles Nichols, seemingly alleging a widespread conspiracy to deceive countless doctors, pharmacists, and patients.
"You changed the samples," Kimble said to Nichols after interrupting his speech to the prestigious gathering of the International Association of Cardiologists in the Chicago Hilton's grand ballroom. "Didn't you?"
According to witnesses, Dr. Nichols had just begun explaining the benefits of an exciting new arterial plaque-reducing drug when Kimble, neatly dressed and groomed but bleeding from the corner of his mouth, approached the dais and asked Nichols, "You almost got away with it, didn't you?" with an attitude witnesses described as "controlled, simmering rage."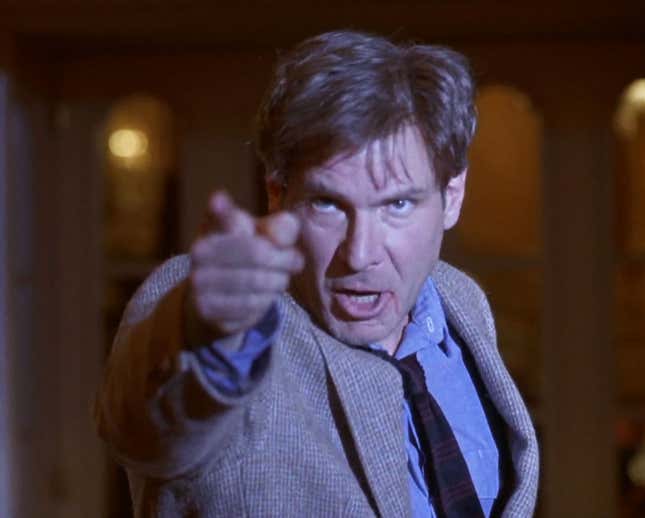 "I know all about it; I can prove it," Kimble continued before apparently accusing Nichols of doctoring test materials to hide adverse effects of Provasic, the drug in question, in the wake of the death last summer of Devlin MacGregor chief Alec Lentz. "You switched the samples and the pathology reports."
Added Kimble, "Did you kill Lentz, too?"
Though medical professionals at the conference described themselves as initially shocked and fearful that an escaped criminal was among them, many told reporters they nonetheless grew increasingly intrigued by Kimble's claims regarding the supposedly successful test and forthcoming high-profile release of Provasic.
According to sources, many audibly gasped as the discussion nearly came to blows on the floor of the ballroom.
While questions remain as to why a high-profile fugitive from justice would focus such strenuous effort on corporate crime and medical fraud even as local and federal authorities were converging on his location, all agreed that, if true, Kimble's accusations would prove an industry-rocking bombshell.
"The whole scene was quite exciting and unexpected," said Dr. Albert Schrader, chief vascular surgeon at Porter Adventist Hospital in Denver, who attended the symposium. "No one could have expected to see this ruined man—convicted of killing his wife before narrowly escaping the law's reach—not only appear without warning before our very eyes, but also confront a trusted friend and colleague with accusations of an immoral and spectacularly illegal deception, all while the Chicago Police Department and U.S. Marshals were simultaneously closing in on him."
Sources reported that Kimble was last seen walking with Nichols into an adjoining room, repeating his claims as Nichols maintained a cool, dismissive demeanor.
The disturbance is only the latest incident in the sensational manhunt that began earlier this month when Dr. Kimble managed to flee incarceration after a premeditated riot triggered the crash of a prison bus carrying him to death row. In the days since his escape, sightings have been sparsely reported, but not until Saturday had there been any confirmed appearances of the uncommonly resourceful convicted murderer.
Kimble maintained his innocence throughout the high-profile murder trial, blaming the crime on a disabled intruder. However, law enforcement officials said Dr. Kimble's guilt has been proven beyond a shadow of a doubt and is no longer in question.
"No, he's not innocent; he was convicted," Detective Kelly of the Chicago Police Department said at a recent press conference. "He was convicted in a court of law. He's guilty."
Asked for comment on Kimble's professed innocence, Supervising Deputy Marshal Sam Gerard, the leader of the manhunt, expressed disinterest.
"I don't care," Gerard is reported to have said.
At press time, witnesses near the side room where Dr. Kimble and Dr. Nichols entered in order to continue their conversation reported noises of a possible physical confrontation involving shattered furniture, suggesting the confrontation may at this moment be escalating.
Portions of this article appeared in the Chicago Sun-Times.
Fugitive Doctor Accuses Devlin MacGregor Of Fraud