DEARBORN, MI—Everything from the bottom-of-the-line coffin to the shabby suit worn by the deceased made the funeral of longtime assembly-line foreman Thomas Meissner, who died May 13 at the age of 68, look cheap, several guests reported Tuesday.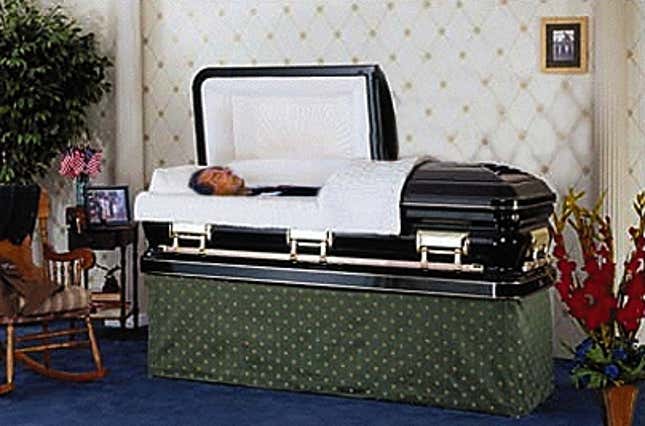 This Week's Most Viral News: September 29, 2023
"There were only five tiny bouquets at the visitation," said Betty Foyer, 59, next-door neighbor to Meissner since 1978. "If you can't afford a large arrangement, you should at least select some tasteful fresh flowers, out of respect for the recently departed. I felt so bad for Tom."
The visitation was held Sunday at Wenke Funeral Home on Raymond Road. The funeral service took place across the street, at the Church of the Redeemer, where the Meissners have worshipped for the past 20 years.
"I thought Tom's son was a teacher in Traverse City," Foyer said. "But I guess he couldn't help out with the costs. That casket looked like it was made out of plywood with a coat of black enamel slapped on. And there's no way those bronze fittings were real."
A framed photograph of Meissner, taken during his honeymoon in the Upper Peninsula in 1960, was propped up beside the casket.
"I think it was one of those $1.99 plastic frames they sell at the Walgreens just down the street," said Alice Dade, 61, who plays bridge with Foyer every Sunday afternoon after church. "I guess it's not really a surprise that they didn't think to get a nicer frame. It was just a couple months ago that they finally got the house re-painted."
Foyer added that "at least Tom looked put together in the photo."
"At the funeral, it was a different story," she said. "Tom was dressed in some 25-year-old navy-blue suit with a stain on the left breast pocket. That stain killed me. It looked like it was salad dressing. Maybe he died in the suit, and they never bothered to take it off him to have it cleaned."
"Oh, I'm sorry I said that," Foyer added. "At least he was wearing a suit. That's more than I can say for his brothers who came to the funeral."
According to several guests at the service, the ceremony lacked the polish and care that a widow ought to provide for her dead husband.
"There was no special pastor, just our regular one," said Doris Carter, who got to know the Meissners at church events and community gatherings. "His nephew tried to sing both songs in the service, with that tinny portable stereo system as backup. I guess if you're not a trained musician, it's hard to carry a tune in front of an audience."
Pastor John Sipek presided over the ceremony. After leading a prayer and delivering a brief tribute, Sipek opened the pulpit to anyone who wanted "to say a few words" about Meissner.
"Judy got so choked up, she lost her place two or three times during her eulogy, which she read off a rumpled little piece of paper she pulled out of her pocket," Foyer said, imitating the gesture with her handkerchief. "I don't know why she didn't ask someone else to address everyone if she wasn't going to be able to. I would've been happy to do it, but she insisted she do it herself, then got up there and fell apart."
"Poor thing," Foyer added.
Although no one complained of discomfort while at the church, several women shared concern for some of the elderly guests.
"My heart went out to that poor gentleman in the pinstriped suit, forced to sit on those uncushioned pews, sweating in the sunlight," Carter said. "I guess he didn't know that, in the warmer months at the Redeemer, it's best to take one of the shady seats in back. They don't have central air."
After the service, the mourners, numbering fewer than 60, drove in a small caravan to the burial plot, located "right off the highway," according to Dade. Although several guests thought the interment rushed and the modest tombstone "an insult to Tom," they were most nettled by the frugality evident at the dinner following the wake.
"When I heard everyone was going to Cracker Barrel after the funeral home, I thought it was a joke," Foyer said. "I asked Judy if she really expected us to share memories at a theme restaurant, and she just said 'yes.' They probably let her reserve the room for free, considering she worked there for so many years. Let's just say I'd had higher hopes for the luncheon."
The post-funeral lunch was even more modest, held in the church's basement, where guests were surprised to discover that the food was homemade.
"I don't want to insult the food at a funeral," said Carter said, smacking her lips in disapproval. "But a word of advice: If you don't know your way around the kitchen, spare yourself the effort. How a woman gets to be as old as Judy without knowing how to cook a decent casserole is beyond me. The coffee was so weak, I couldn't tell if it was decaf or hot water. And not a Sweet 'N Low packet in sight."
Continued Carter: "Not that I minded drinking cold, black coffee. I just felt badly for [Tom's nephew] Robert, who had to drive all the way back to Flint with nothing but a ham sandwich on Wonder Bread in his stomach."
After extending their condolences, Foyer, Carter, and Dade confided to each other that the funeral was "tragic."
"There is no excuse for such a chintzy affair," Dade said. "Tom was sick for almost a year. Judy's had more than enough time to plan a nice funeral. I do believe she tried her best, though. Some people just don't know better. Really, what can you expect from a woman who doesn't keep her lawn mowed?"