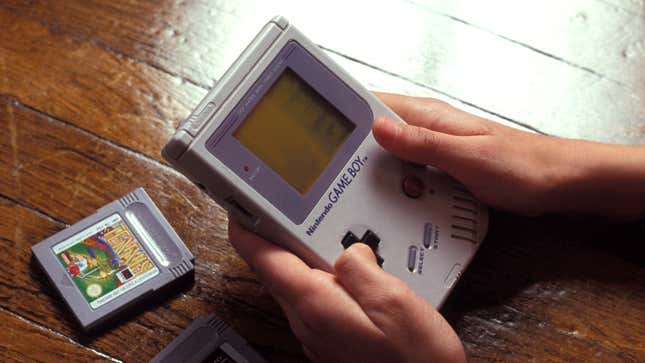 Originally released in Japan on April 21, 1989, Nintendo's Game Boy console has fueled development in handheld gaming throughout its many editions. The Onion looks back at big moments in the history of Game Boy on its 30-year anniversary.
This Week's Most Viral News: September 29, 2023
---
1989:
Parents to refer to every portable gaming console as a Game Boy from this point onward.

---
1990:
Long, vertical Tetris block saves the fucking day.
---
1991:
Release of Sega's Game Gear gives Game Boy its first serious competition since 1989 revised edition of the Holy Bible.
---
1992:
Kirby's Dream Land breaks ground in kink communities with the introduction of vore.
---
1996:
Little hinge on battery cover finally breaks.
---
1998:
Game Boy Color introduces children to the concept of red.
---
2003:
The backlit Game Boy Advance SP ushers in brand-new era of eye strain.
---
2011:
Darren O'Keeffe, 26, wows the L train by pulling out one of these retro bad boys.
---
2021:
Game Boy Classic Edition comes preinstalled with 32 bestselling games that, frankly, don't hold up.