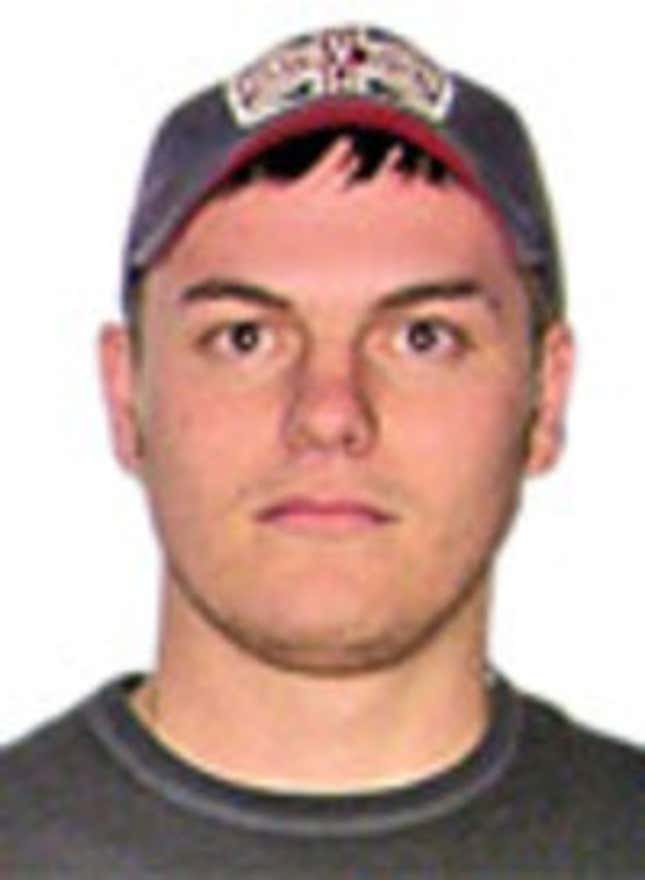 Allow me, with your kind permission, to present to you my pièce de résistance. I must warn you, as one of the select few to have ever witnessed it, you may find it difficult to maintain your composure. A sight such as this is not to be viewed lightly. Steel yourself, for it will be overwhelming. Behold my baseball cap collection in all its glory!
Study Finds LSD Highly Effective At Ruining Nephew's Baptism
Amazing, is it not? I can see that you are both confused and astonished. Take it all in before I continue. When you have quite gathered yourself, I will proceed.
What you see before you are 11 caps, hanging from left to right in the order in which they were last worn, magnificently displayed on metallic hooks pinned to a corkboard.  Each hook has nine-and-a-half inches between its counterpart which gives each piece the proper amount of space to be admired for both its individuality and its place in a grander scheme.
Ah, I see your eyes are drawn to my newest piece. Not surprising. I happened upon this 2006 Oakland Athletics New Era fitted cap at a Champs Sporting Goods store in the mall near my house. An important find, yes, but I would never have purchased it if it didn't complement the collection as a whole.  Its new, youthful, hunter-green wool body, embellished by its yellow bill and traditional white A and apostrophe S, serves as a stark counterpoint to the visibly worn yet resilient Buffalo Bills cap that hangs beside it. I saved that Bills cap from an ignoble fate in a bargain bin in Mobile, AL, many moons ago, during a time when I, too, needed saving. Stand before the Bills cap, and all the caps for that matter, and realize that you, too, are merely mortal.
My favorite piece—and I say this knowing that it may surprise you—is the plain navy blue cap. I paid a hefty sum for it at that gift shop off the Pennsylvania Turnpike, and when I finally had it in my hands, I let out a sigh that seemed to echo the full weight of humanity. Its simplicity is stunning.
When I began this collection, I was 10, a mere boy, ignorant of my destiny as curator of the greatest collection of sportswear ever assembled. I realized long ago that I am not so much its owner as its steward, maintaining it so it may be passed on to future generations.
My first hat is the one three in from the right, its headband stained with the sweat of hope and sorrow. Notice the netted body adorned with an "R" (for "Reds") and the adjustable notches in the back. It is from my first Little League team. Remember your youth? Your innocence? Could it be we were ever so naïve, regarding our baseball caps as nothing more than objects to be worn on our heads? Do not fear to touch it, for to touch it is to feel its beauty. Go on, allow yourself to be humbled in its presence.
Look further. The uneven curvature of the otherwise exquisitely brimmed Dallas Cowboys hat proves that, no matter what, true perfection is unattainable.
That unmistakably curious cap on the far left, with the stitched jackrabbit, was a free gift I received when I purchased my old Volkswagen Golf. That was one of the most complex times in my life, just as witnessing this is probably one of the most complex times in yours.
And the Phoenix Coyotes hat was a present from my parents, because I am a pretty big Coyotes fan.
I sense that you are starting to understand the enormity of what hangs before you. What you are experiencing right now is an onslaught of universal truths words cannot describe. I know that profound and inexplicable sensation well. Indeed, I feel it every day. The soul quakes a little at the sight of the sublime. We are, after all, only human.
Oh, but how I ramble on. The collection is best appreciated in silent contemplation. I am going to leave you alone now. Don't be afraid. This is a safe place. If it all becomes too much, draw strength from the collection's anchor: the New York Mets hat. A constant companion on the rockiest of life's winding roads, it has guided me through many a tough time, and no doubt it will again.
Yes, no doubt it will again.