DALLAS—While sitting alone on the porch of his home late Monday afternoon, George W. Bush, 63, chuckled upon suddenly remembering that he was once the president of the United States of America for nearly a decade.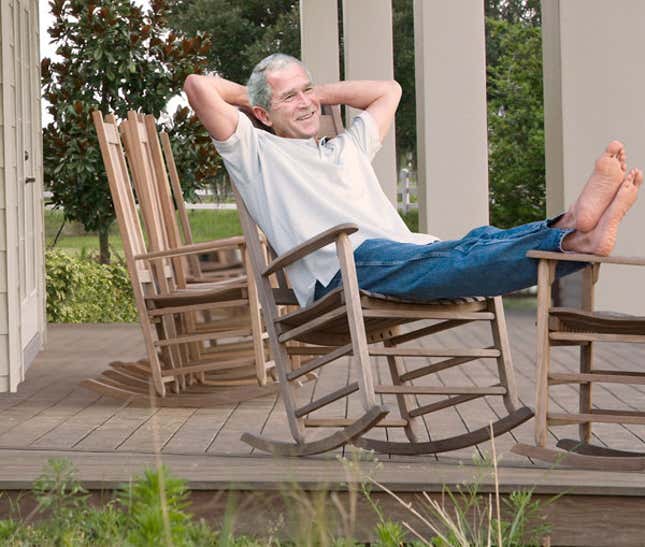 This Week's Most Viral News: September 22, 2023
"Huh," uttered the amused former world leader, reflecting upon how for eight years he controlled the executive branch of the most powerful nation on earth, executed its federal laws, and acted as commander in chief of its 1.4 million active-duty troops. "President."
"Man, oh, man," Bush added. "Ha!"
According to neighborhood sources, Bush then clapped his hands together lightly and shook his head in apparent disbelief.
Bush, who served as president of the United States from 2001 to 2009, had reportedly been on the verge of nodding off during Monday afternoon's porch-sitting, and appeared pleasantly taken aback by the unexpected remembrance of his years in the White House.
"I was president," murmured Bush, his mind returning again and again to the thought of "eight years" as he emitted a series of short, guttural laughs that reportedly grew in volume the longer he lingered on his time in office. "That was what I did for a living. Me. George W. Bush. For almost a decade."
"I did that," Bush added. "As my job."
Continued Bush, "I'll be damned if I wasn't the president of the United States of America."
Witnesses said the former president's chuckling grew even stronger as it dawned on him that, for eight straight years beginning in January 2001, he had the power to nominate executive and judicial officers to the federal government, as well as grant unlimited presidential pardons and reprieves if he so desired.
Bush was then reportedly further tickled by the thought that he once had the authority to issue a televised address to the entire nation on a whim, gain an audience with any foreign leader he pleased, and launch all of the country's 2,700 active nuclear warheads at once, as these are all privileges reserved for the president of the United States, which is what George W. Bush was for two consecutive four-year terms.
"Whew! That's a hell of a thing," said Bush, his eyes filling with deep reservoirs of tears as his chuckles turned to outright guffaws. "That is just…Wow."
As the sun began to set over his private residence in the Preston Hollow neighborhood of Dallas, Bush wiped the tears from his eyes and headed back inside for dinner.
"Hoo, boy," said the 43rd president of the United States of America, George W. Bush, who was elected to the office on two separate occasions and served in the White House for the 225th through 232nd years of this country's history. "I can't believe it."
Added Bush, "I just can't believe it."