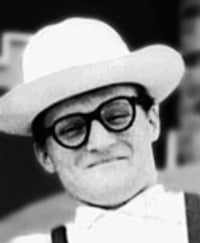 A most distressing thing happened to me the other day. There I was, squatting like a baboon in my bed, trying to pass a bolus the size of a medicine ball, when a complete stranger burst into my chamber to ask where the restroom was. I nearly leapt out of my skin! How did this obviously crazed and demented individual get past the electric fence and platoon of Swiss guards that surround my vast compound?
I fumbled for the derringer I keep under my pillow, but my nurse restrained me, saying, "He must have strayed from his tour group." She then calmly left the room with the wretch, as though it were the most natural thing in the world!
As I later learned, to my deepest horror, my 650-room mansion and adjoining grounds have been turned into a public thoroughfare, a sort of boardwalk amusement spectacle, if you will! Recently, in 1954 or so, my wastrel son, J. Phineas, decided that the ancestral home of the Zweibels could be converted into a tourist attraction upon which, for a petty and nominal sum, the unwashed and unlettered masses could trod in complete disregard!
Now, I'm a newspaperman by trade, and I've always believed that the invasion of other people's privacy is a supreme right given to us by a wise and just God. But by gum, I just can't bear the notion of some Joe Lunchpail and his slovenly wife trundling clumsily through my private slaughterhouse, or trying on my world-renowned collection of 16th century undergarments.
A man's home is his castle, I tell you! Take that away from him and you deny him his very manhood. I refuse to stand for this outrage!
I thereby proclaim to you, citizens of the Republic: Get the hell off my property, you lowlives! I'll show you what for. You think you can eat my melba toast and soil my linens and listen to my gramophone? I'll fill your posteriors full of lead first! Nurse, fetch my musket!
Stay off my property. That is my final warning. After that, you're fair game. As God Almighty is my witness, if I find you wandering about my landholdings, I'll gut you like a deer.
T. Herman Zweibel, the great grandson of Onion founder Friedrich Siegfried Zweibel, was born in 1868, became editor of The Onion at age 20, and persisted in various editorial posts until his launching into space in 2001. Zweibel's name became synonymous with American business success in the 20th century. Many consider him the "Father Of American Journalism," also the title of his well-known 1943 biography, written by Norman Rombauer.