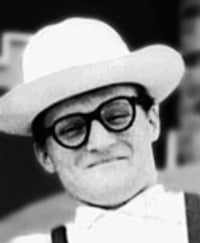 I'm sick and tired of ghosts visiting my bed-chamber. At first, I admit, it was terrifying. Then, it became endearing. But now, it is down-right tire-some.
First, the ghost of my father, Herman Ulysses Zweibel, manifested himself above my four-poster death-bed, cackling wildly and rattling his chains. My horror knew no bounds. Mortified, I begged for his mercy, but he only cackled some more.
He kept cackling. And cackling still. It was so infectious, I could not keep a straight face. So I began to cackle, or at least offer up the closest thing to a cackle my near-ossified vocal cords could muster. We both kept cackling on through the night. It was a charming moment that only a long-dead father and his near-death son could share.
As I cackled, I began to realize that there wasn't a lot that Pater's ghost could actually do except float around, rattle his chains, and cackle. My fear gave way to not a small amount of disappointment. I stopped cackling and drifted off to sleep. When I awoke, Pater's ghost was still there, hovering above the bed and staring at me blankly.
"Can't you at least knock over the armoire or make a window slam shut, or some such haunting-action?" I demanded.
"No," he replied. "The chains limit my mobility."
As the weeks drifted by, Pater continued to hover about my bed-chamber, occasionally moaning or shaking a chain or two. Then, one day, I heard an unearthly moan quite unlike the whimpers emitted by Pater. Suddenly, before my eyes appeared the ghost of my one-time bosom friend and business associate, the ruth-less steel magnate J. Titian McBrodie.
"A WARNING FROM BEYOND, FRIEND ZWEIBEL!" McBrodie's ghost bellowed. "REPENT YOUR EVIL WAYS OR SUFFER AN ETERNITY IN HELL-FIRE!"
My blood ran cold, and my mortal fright returned in full force. "J. Titian!" I cried. "Your ghostly warning has served as a bracing wake-up call to me! In my remaining days, you have my solemn word, I will try my best to make up for my century of sin and wrong-doing!"
"JUST KIDDING!" McBrodie's ghost replied. "THERE'S ACTUALLY NO HELL AT ALL! HEAVEN EITHER! I WAS JUST FUNNING YOU! HOW THE DEVIL ARE YOU, ZWEIBEL OLD CHUM?"
I was so filled with disgust that I could scarcely speak. Instead, I let the two monotonous apparitions hover about and compare boring notes with one another as I received my daily enema.
T. Herman Zweibel, the great grandson of Onion founder Friedrich Siegfried Zweibel, was born in 1868, became editor of The Onion at age 20, and persisted in various editorial posts until his launching into space in 2001. Zweibel's name became synonymous with American business success in the 20th century. Many consider him the "Father Of American Journalism," also the title of his well-known 1943 biography, written by Norman Rombauer.