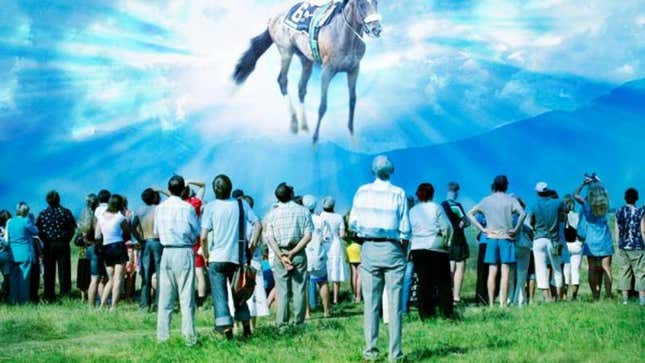 LOUISVILLE, KY—Exactly one year to the day after Kentucky Derby winner Barbaro was tragically taken from us before his time, an apparition of the beloved racehorse appeared in the morning sky to teach Americans from all walks of life about the true meaning of Barbaro Day.
Barbaro, assuming the spirit form of the healthy young colt America fell in love with before a severely broken right leg derailed his career and threatened his very life, manifested himself in the heavens during a Churchill Downs memorial ceremony in his honor. Across the nation, people reported seeing the thoroughbred's benevolent countenance appear among the clouds—his large liquid eyes looking solemn yet hopeful, his auburn mane swaying in the breeze, and his ethereal face suffused with a heavenly inner light that cast a gentle warmth over the masses.
"My dear friends, it is I, Barbaro," the firmament-spanning equine proclaimed in his trademark deep, wavering baritone. "I come to you on this, the first Barbaro Day, to remind you that despite what you may see on television and in department stores, this day is not about big parades, or fancy toys, or getting your picture taken next to a mall Barbaro. Nor is it about draping wreaths and garland over the neck of your loved ones, sipping mint juleps at office Barbaro Day parties, or even about winning horse races."
"No," Barbaro continued, shaking his head and softly nickering. "No, Barbaro Day is about triumph over great adversity. Courage in the face of great uncertainty. Daring the impossible, despite having your fetlock and pastern joints fused together to stabilize your right hind leg. But most of all, Barbaro Day is about love."
"May you love one another as you have loved me," Barbaro added. "Then—and only then—can every day truly be Barbaro Day."
The awestruck populace listened in rapt attention to the words of the great horse's spirit as he urged the people to remove their metaphorical blinders and open their eyes to the world around them; to never put too much weight on their sesamoid and long pastern bones; and to remember that Barbaro Day is not just the day that Barbaro died, but the day that human beings learned to put their differences aside and treat one another as they would want a 1,200-pound racehorse to be treated.
As Barbaro spoke, the crowd remained reverently silent save for the sounds of soft weeping and the occasional shout of "We love you, Barbaro!"
"Nothing pleases old Barbaro more than seeing a man help an elderly woman cross the street, or a family get together to laugh and be merry and eat a big bale of hay, or a child who is told repeatedly that he cannot win the Kentucky Derby but who works hard and believes in himself and does it anyway," Barbaro said. "That is the true spirit of Barbaro Day."
Reaction among those assembled was a mixture of shock and sudden total enlightenment, with many unable to put into words the great joy they had just experienced. To the disconsolate few who had previously refused to believe that the horse was truly dead, Barbaro explained that with life ultimately comes death, and that true immortality could only be achieved through one's actions during life.
Barbaro also assured them that he had taken his place among the great kings and poets in the heavens, and that his legs and hooves were perfectly healthy up there.
"What a fool I was, trying to use Barbaro Day for my own personal profit," said West Grove, PA resident Maria Brewster, who has been selling miniature plush Barbaro dolls at local craft fairs for the past month. "I am going to return all my Barbaro Day gifts and donate that money to either the homeless or that charity that is looking for a cure for laminitis of the left hoof."
Many others claim that they received visits from Barbaro's ghost the night before.
"Barbaro floated in through my window and told me that I was a good girl and that I could be anything I wanted to be when I grow up," said Kimberly Drexel, 12. "Then I asked him if he was real, but he just tucked me in with his hoof, told me to go back to sleep, winked at me, and disappeared. But this morning when I woke up, the window was open and there were horse hairs all over my bed. It was really him!"
Although the leader of the free world refused to reveal whether he had been personally visited by Barbaro, when President Bush emerged from the White House early Wednesday morning, the lines of age once etched onto his face had seemingly disappeared. Bush then unveiled an innovative small-business-incentive-based economic stimulus package and a universal health-care plan, which he credited to "my big friend in the sky."
Before he departed, Barbaro took a moment to address those fans who stood by him throughout the darkest hours of his life.
"In death, I can say the things I never found a way to say in life, on account of my being a horse then," Barbaro said. "I want to say thank you. Thank you for believing in me. Thank you for your kind letters and your prayers. And thank you for making my get-well cards extra-big, as my eyesight just ain't what it used to be."
As Barbaro's ghostly visage faded into the night sky, he wished everyone a happy Barbaro Day, told the nation's children "Don't forget to finish all your oats," and called for an end to the senseless fighting in Iraq.