PURCHASE, NY—Area girlfriend Caroline Nagler remains in stable condition at White Plains Hospital today, resting in a medically induced coma after suffering an apparent overdose of scented lotion, sources confirm.
Responding to a frantic 911 call from her boyfriend, emergency personnel said they rushed to Nagler's residence around 10 p.m. last night and discovered the 26-year-old unconscious in her bed and surrounded by dozens of empty bottles of daily moisturizers, anti-wrinkle treatments, and hydrating balms, suggesting an acute level of lotion toxicity.
"When we arrived, Ms. Nagler's blood-lotion level was 0.45. That's four times the lethal limit," said emergency responder Anne Jones, noting that in addition to finding high levels of Olay and Jergens in her system, doctors also discovered traces of harder oils like ylang-ylang and jojoba. "Her lips were extremely glossy—glossier than I've ever seen. It took us hours to stabilize her shea-soaked skin before we could even begin wiping off the many herbal extracts and replenishing creams, not to mention bath and shower gels."
"We're guessing that by the time her boyfriend found her, she had been inhaling cocoa butter and eucalyptus fumes for over 45 minutes," Jones continued. "One more Buf-Puf of jasmine serum and it would have been too late."
Doctors said that after Nagler arrived at the hospital's trauma ward, it was a "race against time" to save the young woman's life, with teams of nurses working around the clock to neutralize the accumulated layers of almond butters, Moroccan oils, essential fruit extracts, and age-defying exfoliants that had left her skin dangerously supple.
G/O Media may get a commission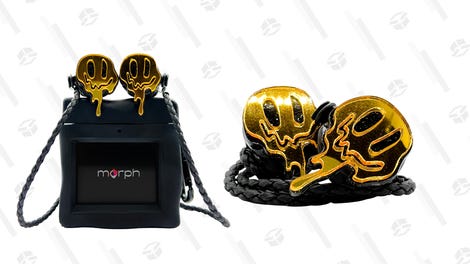 morph audio
Morph Earphones
After first treating her arms and legs to remove the thick coat of honeysuckle and whipped vanilla gloss, emergency room staff vigorously scrubbed Nagler's body with gauze to reduce the buildup of vitamin E and hibiscus. Next, the medical team used a high-powered pump to suction the ultra-hydrating lotions from her face and hands, areas that had been exposed to critical periods of long-lasting moisturization.
According to friends, Nagler's overdose was the result of being a habitual lotion user whose addiction had, as of late, spiraled out of control.
"Caroline didn't do this to herself on purpose—she just didn't know her limit," distraught boyfriend Eric Klein told investigators, recalling that Nagler would often come home covered in a layer of lavender salve without acknowledging that she glistened brightly or smelled heavily of morning dew. "It's a wonder she hasn't had an overdose yet; it's a full-on addiction. She hides the bottles everywhere—underneath the sink, in the back of cabinets. I once saw her pull a small bottle of it out of her purse. She couldn't go 20 minutes without it."
"It was only a matter of time before she started mixing lotions," Klein continued. "Every morning it was a cocktail of prescription-strength aloe-vera, rosewater, sunscreen, Wrinkle Revenge cream, and who knows what else."
Emergency room doctors say that as lotions become more fragrant, more flirty, and more expensive, hospitals will continue to see cases of women overdosing from the products. In the past week alone, local hospitals treated more than 20 local girlfriends with injuries similar to Nagler's, according to records.
"The mistake so many women make is thinking they can slather on a layer of cedarwood foam, wait a few minutes, and then start rubbing on some shiny body butter," said emergency physician Dr. Thomas Nguyen, noting that his own girlfriend had a close call last week when she applied more than 80 doses of Jurlique balancing spray, or "pillow mist" as it's known in street slang. "The rule of thumb is to use a quarter-sized dollop of lotion, wait an hour, then use more if necessary. Oiling up too quickly vastly increases the risk of internal organ failure, or worse."
"If you think you have a problem, please seek help immediately," he continued. "Your life is worth more than having silky-smooth skin, no matter how soft and luxurious it might feel."