NEW YORK—According to witnesses, former New York City mayor and one-time favorite for the Republican presidential nomination Rudolph Giuliani was seen slumped over and asleep on the Coney Island-bound F train late Tuesday night, as well as on the return Queens-bound F train early Wednesday morning.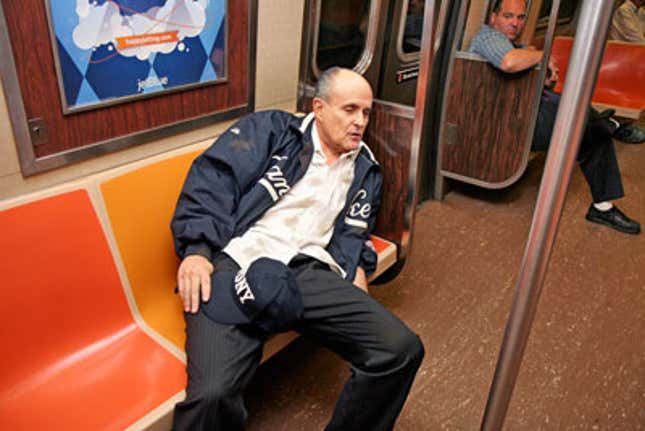 Study Finds LSD Highly Effective At Ruining Nephew's Baptism
Giuliani, once a beloved New York figure who earned the nickname "America's Mayor," was wearing a faded New York Yankees jacket and a dirty FDNY cap pulled down over his eyes.
"Everyone was sitting on the opposite side of the train because there was a real bad smell coming from his side," said passenger Melissa Humber, who witnessed Giuliani lying across three seats and using a rolled-up New York Post as a pillow. "He seemed to jolt awake when a homeless guy started ranting about 9/11, but then he just sighed and went back to sleep." Giuliani was last spotted shaving in a New York Public Library bathroom.