Personality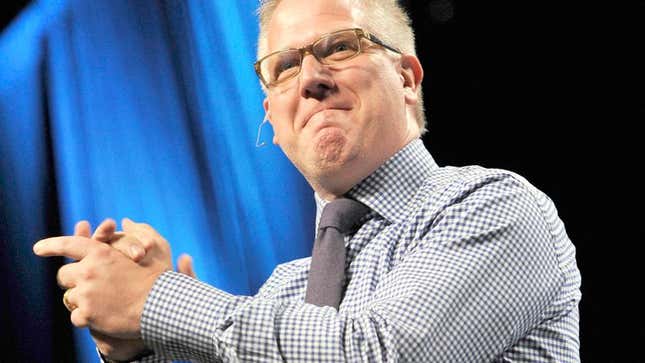 In what has increasingly become an era defined by pandemonium, rancor, and blind ignorance, one stabilizing voice emerged from the din this year to soothe the souls of Americans everywhere, make us recognize the common decency that binds us all, and supplant the poisonous aura of fear and chaos with a simple, well-thought-out message of peace, prosperity, and reconciliation.
That man is television and syndicated radio host Glenn Beck.
Every single day of 2010, Beck's quiet words of humility and reason have touched the hearts of all Americans, healing countless wounds and elevating the level of our national discourse. Indeed, just as Martin Luther King, Jr.—to whom Beck has so aptly and correctly compared himself—once showed the nation the way forward to compassion and civility, so have Beck's stunningly eloquent broadcasts, inspiring political rallies, and bestselling books reassured every living citizen that we are all joined by the same ever-beating heart of kindness, and that gentler roads lie ahead if we could all just settle down, lower our voices, and focus on solving the actual, meaningful problems of our world together.
For in these troubled times of rising unemployment, political infighting, anger, and persecution, America needs a man who can put the issues in perspective and bring us comfort; a man who cares not about race, creed, sexual orientation, or party affiliation; a man who sees beyond petty political maneuverings, emotional exploitation, greed, and opportunism; a man who encourages all of us to disregard the ceaseless clamor of ideologues and think for ourselves; a man who sees beyond his own ego and cares only for what is good and right and just. In short, it needs a man like Glenn Lee Beck.
Thank God for Glenn Beck and all he has done. After all, what would our country be like if not for him?