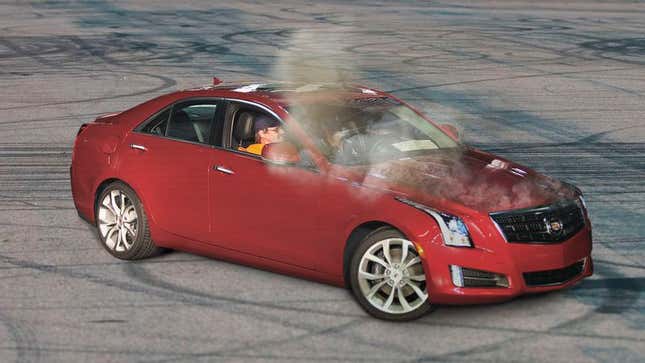 DETROIT—In what is being hailed as a potential game-changer for the beleaguered automotive giant, General Motors announced Thursday that it plans to pour all its resources into a single car that can be safely driven down the street, turned around, and then driven back.
Edgelords Explain Why They Love Elon Musk
According to CEO Mary Barra, GM will harness every means at its disposal—from its $155 billion in annual revenue to its 219,000 employees working in 396 facilities around the world—to produce one Chevrolet Function: a four-door sedan that will be made available to a single customer wishing to complete a trip around a residential block without sustaining any bodily harm.
"We're excited to be investing everything we have in this promising new direction for GM, which will allow tomorrow's driver to navigate a stretch of road in a vehicle that remains physically in one piece throughout the trip," Barra said at a press conference, standing before an in-progress model of the car that she confirmed is now the sole focus of GM's entire 2,000-person design team. "This car represents a remarkable leap forward. With its state-of-the-art technology, the Chevy Function can run for up to eight minutes without anyone inside it being killed or even needing to be hospitalized."
"This is where the future of GM lies," she continued. "For any consumer who just wants to stay alive while taking a short spin down a street with no traffic, hills, or obstacles of any kind, we believe the Function is the perfect car."
While stressing that the new model is still in the development stages, GM officials touted a recent breakthrough trial in which, for the first time, a test driver emerged unscathed after spending several minutes inside a prototype of the car. A video screened for reporters shows the driver successfully backing out of a driveway, shifting from reverse into drive, and making noticeable forward progress before the engine stalls and begins emitting smoke.
Throughout the media event, company representatives praised safety features aimed at protecting the driver from deadly mechanical failures, including an ignition switch that allows the motor to continue running uninterrupted while the car is in motion, a gasket that can prevent the airbags from unexpectedly deploying mid-drive, and a braking system capable of stopping the vehicle upwards of 98 percent of the time.
"The Function represents a bold commitment to meeting our customers' needs every step of the way, whether they simply want to drive to the end of a street, or whether they also want the ability to slow down, turn around, and then come back to the beginning of that street," said Barra, noting that she firmly believes it will soon be possible for a GM driver to do these things without sustaining limb paralyzation, brain damage, or another permanently debilitating injury. "Of course, there are still some problems with the car erupting into flames when the power steering is engaged. But it works fine as long as you're just driving it in a straight line; we can assure you of that."
"You can expect to see the Function on the road by 2019 at the latest," she added. "After that, our goal will be to scale up our facilities and potentially produce five or maybe even six of these automobiles."
Acknowledging recent incidents in which one GM employee suffered third-degree burns and another lost a hand to an electrical fire after they attempted to switch on the car's headlights, a spokesperson for GM said its "dedication to quality" had forced the multibillion-dollar project back to the drawing board numerous times. Still, the company reportedly projects that within a decade, it will have developed a version of the vehicle that can be driven more than once.
"I've got to say, I'm impressed with what I saw of the Function—getting a car down the road and back could go a long way toward keeping GM at the head of the pack in Detroit," Car And Driver senior editor Derek Lawrence said after the press conference. "And if they can figure out a way to install the seat belts without creating a strangulation hazard, I can see this becoming a practical, even reasonable, automobile."
Sources confirmed the unoccupied prototype on display later slipped out of park and lurched forward into the crowd, killing three.