NASHVILLE—After reporters and fans observed a number of personal belongings accumulating around the south goal in Nashville's Sommet Center, members of the Predators organization acknowledged Tuesday that goaltender Dan Ellis has been residing in the net since signing as a free agent last June.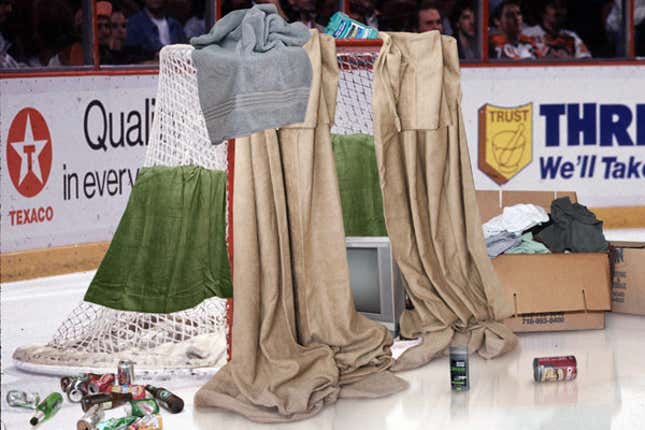 This Week's Most Viral News: September 29, 2023
"One day it just occurred to me that Dan would never leave the arena with the rest of the team after practice, even though he got along great with everyone," team captain Jason Arnott said, adding that he did not suspect anything even though Ellis was always the first player on the ice each day. "Before long, a pillow and blankets appeared, shoved into the corner of the goal, but I didn't put two and two together until the rink began to get really musty and the crease started to fill up with socks and cans and crumpled up chip bags."
Arnott said that shortly after he realized Ellis was living in the net, he noticed the 27-year-old goalie was only consuming hot dogs, popcorn, peanuts, beer, and soda purchased from vendors in the stands. Recently, Ellis' teammates have left non-perishable canned goods outside his net.
"It was really heart-wrenching," Arnott said. "Watching that poor guy climb into the stands between the second and third periods, buying dozens of hot dogs and filling up his helmet with popcorn so he would have enough to last a couple days. Fans loved it, though."
Predators coach Barry Trotz said he had no intention of asking Ellis to move out of the net, considering the goalie led the NHL in save percentage with .991, stopped 177 of 182 shots in the final five games, and had six shutouts on days when the team skipped warm-up slap-shot drills in order to let him sleep in.
According to team sources, the netminder's housing situation created a great deal of curiosity amongst the Predators, prompting the intensely private Ellis to hang long curtains along the crossbar of goal frame. In addition to protecting Ellis' belongings from thieves, the drapes also provide the goaltender, who played 2,228 minutes this season, with a way to occasionally of seclude himself from the 17,000 fans in attendance.
NHL commissioner Gary Bettman stressed that the integrity of the game was at stake and therefore maintained that he would not enact any rule changes despite numerous complaints from opposing goalies claiming Ellis' goal area was "too disgusting to defend" when the teams switched sides each period.
"If I were to prohibit Dan Ellis from dwelling in the net, it would directly interfere with his ability to perform," Bettman said, insisting he would not tamper with one of the most sacred rules of hockey. "It's one of the oldest traditions of our sport that anything behind the goal line is his business."
While Predators defenseman Ryan Suter admitted that the large spreading stains on and even in the ice around the goalie area baffled and disturbed him, he quickly pointed out that he was impressed by Ellis' defensive tenacity and his uncanny ability to inform him where he should position himself.
"Dan really knows every single square inch of that ice," Suter said, adding that he too might try sleeping in his skates. "He was always screaming 'Get out of the backyard! Go over there around the recycling bin! Set up there, where my bike is parked!' and I end up exactly where I need to be to make a play."
Suter recalled an incident that occurred during the Predators warm-ups before their game against the Blackhawks on March 22, when an errant puck reportedly slipped past Ellis and cracked the housing of the goaltender's television set. According to Suter, Ellis played with such tenacity over the next eight days that he stopped 147 consecutive shots and would not allow players from either team within 12 feet of the goal.
Although no one in the Predators organization has a definitive theory as to why Ellis moved into the team's net, there has been growing speculation that when he joined the team he did not feel that he could find a comparable apartment in the greater Nashville area.