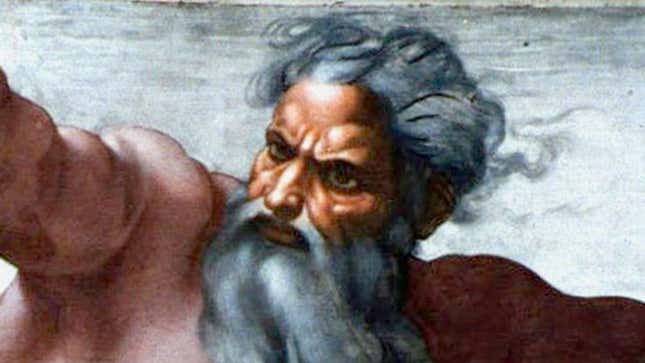 THE HEAVENS—Responding to inflammatory remarks made by Republican Senate candidate Richard Mourdock during a debate Tuesday night, Our Lord God the Almighty Father sought today to distance Himself from both Mourdock and the entire right-wing fundamentalist Christian movement, sources confirmed.
This Week's Most Viral News: September 29, 2023
"I want to make one thing absolutely clear: Mr. Mourdock's comments from last night in no way reflect my position on this or any other issue," said the Divine Creator, speaking at a press conference this afternoon to address Mourdock's remarks that rape-induced pregnancies were God's intent. "And furthermore, I would like to take this opportunity to say definitively that I, God, do not officially sanction or condone the words or actions of anyone involved in the fanatical, conservative Christian faction that Mr. Mourdock represents."
"Many people hear my name in connection with the Christian Right and start to assume we are aligned in some capacity, and I'm here to say, for the record, that we are not," God continued. "So let me just be clear: I don't want women to get raped—not ever. I don't think their resulting pregnancies are my divine will. And if a woman is raped, then she has the right to get an abortion, period. I do not agree with Mourdock. I do not agree with the Christian Right. End of story."
Calling Mourdock's comments "the last straw," the Lord Our Maker explained that while in the past there have been a few areas where He and the religious Right have been in agreement, more often than not, in recent years, He and Christian conservatives have grown "actually quite far apart" on a wide range of issues.
God then went on to cite several incidents—ranging from the Westboro Baptist Church's "God Hates Fags" campaign to Missouri Senate candidate Todd Akin's remark this year that victims of "legitimate rape" rarely get pregnant—as examples of what He described as "an unmistakable and disturbing trend toward intolerance that I do not support."
"What these people are saying betrays a worldview that is, frankly, completely different from my own, and it embarrasses me to even hear my name mentioned alongside theirs," God told reporters, emphatically. "For example, I'm not into capital punishment at all, or really killing in general, so I'm not sure where that whole talking point came from. On the same token, I don't like guns very much, and I certainly wouldn't say that everyone has a right to own guns—that's absurd. Unlike Mr. Mourdock and many Christian Republicans, I agree with the overwhelming majority of climate scientists that global warming poses a major threat to the planet and must be addressed. I also believe stem cell research is very useful, and I think that if you're gay, that's fine by me."
"Even on some economic issues we don't quite see eye-to-eye," continued the Eternal One, a self-described Keynesian who said He has "serious doubts" about the merits of trickle-down economics. "And, you know, a lot of this stuff is in the Ten Commandments, too, so I'm already on record as being not in agreement with a good majority of the Christian Right's views. In fact, in the future, if people could just refrain from grouping us together in any way, I think that would be ideal."
"That includes members of the Christian Right themselves—if they could stop talking about me entirely, that would be preferable," God added. "In the end, probably best if we just completely went our separate ways here."
At press time, God's son, Jesus Christ, offered a countering view and confirmed He strongly believes pregnancies resulting from rape are, in fact, God's gift.