THE HEAVENS—In what is being described by advance marketing materials as "the first divine creation in more than 6,000 years," God Almighty, Our Lord Most High, introduced a brand-new species of bird into existence Monday.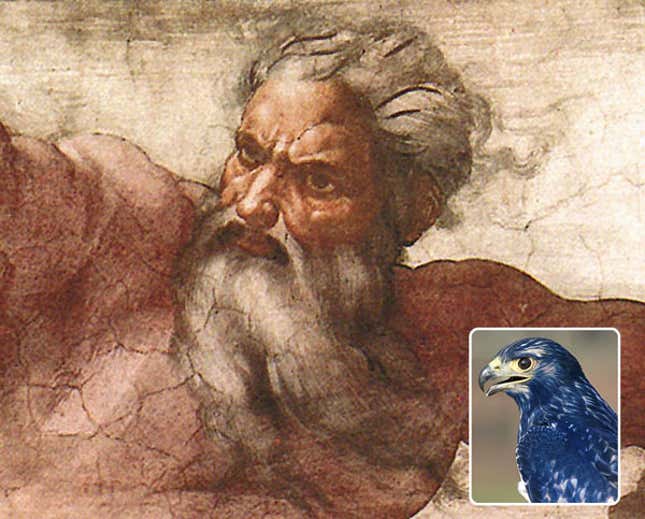 This Week's Most Viral News: September 29, 2023
"Sons of Adam and Daughters of Eve, prepare thine eyes for the most exciting line of avian wildlife in millennia," God announced as He released an estimated 14 million first-run models into the important bird markets of North America, Australia, and Eurasia. "This new bird has it all: slicker wings, a more streamlined beak, better-than-ever capacity for beautiful song. Plus, all of the grace and majesty you've come to expect from the Eternal Creator of Life Itself."
"The bird is back," God continued, His booming voice parting the very heavens. "And baby, it's never looked better."
According to the latest specs, etched in two tablets of stone and handed down from atop Mount Sinai, the new bird is anticipated by God to be His finest creation to date. Available in two colors-—male and female—the bird reportedly combines everything God has learned from His previous works into one "new twist on an old favorite."
In keeping with tradition, the bird has not been given a name by God, who has left it to mankind to name all the animals.
"This came out at the perfect time," said Chet Clem, Chair of Biblical Science at Oral Roberts University. "God hadn't come out with anything in a long while, and people, quite frankly, were beginning to lose faith in Him. But this bird is totally worth the wait."
Added Clem, "It's classic God."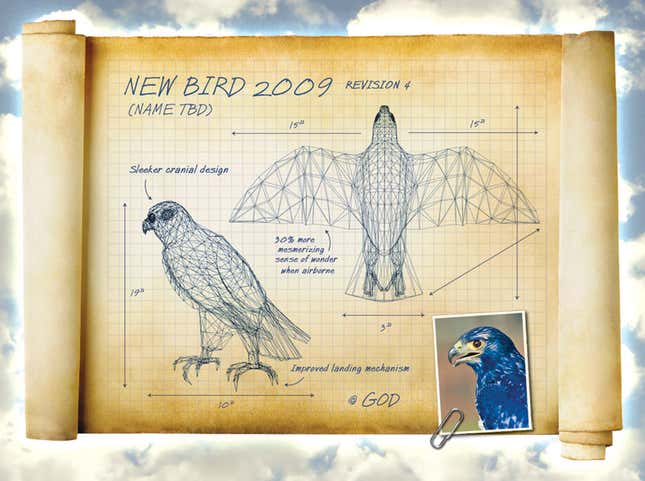 "Our Heavenly Father has really outdone Himself this time," ornithologist Dr. Avram Wasserbaum agreed. "Birds don't tend to be His strong suit—take the buzzard or the dodo, for instance. This latest bird, though, has all of God's patented design touches: splendor, grace, and an ineffable sense of timelessness. Trust me, once folks get a load of the brilliant plumage, this thing is really going to put God back on top."
"Plus, birds are hot right now," he added.
For His part, God has even gone so far as to call the new bird His "masterpiece."
"I'm telling you, I pulled out all the stops on this one," He said. "It looks kind of like a hawk, but it's more compact, and it has a smart, sexy flight pattern that has to be seen to be believed. And if that's not enough, get this: This bird eats insects, like a bat."
God's faith in His newest creation remains so high, in fact, that if it turns out to be as popular as expected, He plans to discontinue one of His less beloved species, such as the pigeon.
Not all, however, are impressed.
"The wingspan is not really doing it for me," said well-known creation critic Jean Krewson. "And does it always squawk like that? After six millennia, couldn't God have come up with something a little edgier to breathe life into? I hate to say it, but maybe the One Who Made Man Flesh is losing His touch."
"It's no bald eagle, that's for sure," he added.
Despite such criticisms, most humans remained united in praise of the new species, which is already surpassing previous records for bird popularity in all major wildlife sectors.
"Get 'em while supplies last," God said. "Or before they're hunted to total extinction."