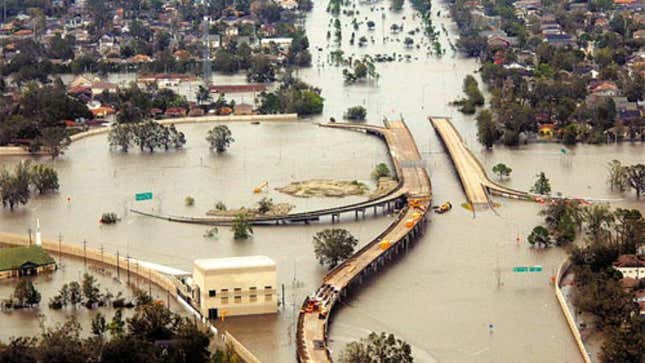 Louisiana National Guard Offers Help By Phone From Iraq
BAGHDAD—The 4,000 Louisiana National Guardsmen stationed in Iraq, representing over a third of the state's troops, called home this week to find out what, if any, help they could offer Katrina survivors from overseas. "The soldiers wanted to know if they could call 911 for anyone, or perhaps send some water via FedEx," said Louisiana National Guard spokesman Lt. Col. Pete Schneider. The Guardsmen also "would love to send generators, rations, and Black Hawk helicopters for rescue missions," but, said Schneider, "we desperately need these in Iraq to stay alive." Defense Secretary Donald Rumsfeld praised the phone support, but noted that it would take months to transfer any equipment from Iraq to New Orleans, saying, "You fight a national disaster with the equipment you have."
This Week's Most Viral News: September 22, 2023
Government Relief Workers Mosey In To Help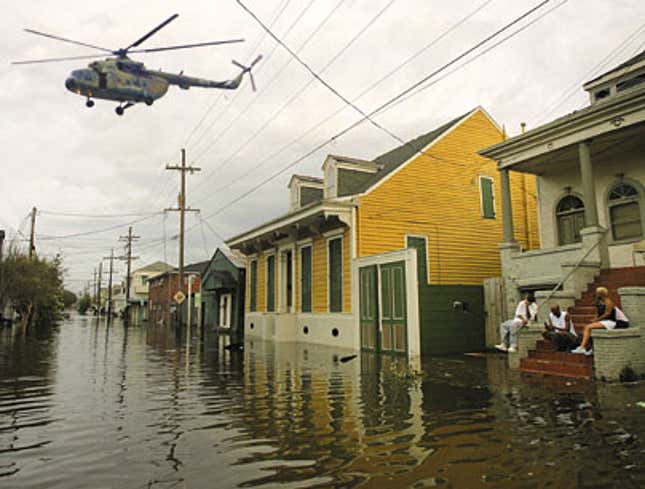 NEW ORLEANS—Federal Emergency Management Agency director Michael Brown, leading a detachment of 7,500 relief workers, moseyed on down to New Orleans Monday afternoon. "Well, I do declare, it's my job to see if any of these poor folks need any old thing," Brown said from his command rocker on the command post porch, adding, "Mighty hot day, ain't it?" Follow-up teams of emergency relief workers are expected to begin ambling into the Gulf Coast region as early as this weekend. "They should be getting the trucks good and warmed up anytime now, and they'll be cruising into town just as soon as all the reservists stroll in," said Brown, who is currently at his desk awaiting offers of food, water, and evacuation buses to roll in from "somewhere or other."
Refugees Moved From Sewage-Contaminated Superdome To Hellhole Of Houston
HOUSTON—Evacuees from the overheated, filth-encrusted wreckage of the New Orleans Superdome were bussed to the humid, 110-degree August heat and polluted air of Houston last week, in a move that many are resisting. "Please, God, not Houston. Anyplace but Houston," said one woman, taking shelter under an overpass. "The food there is awful, and the weather is miserable. And the traffic—it's like some engineer was making a sick joke." Authorities apologized for transporting survivors to a city "barely better in any respect," but said the blistering-hot, oil-soaked Texas city was in fact slightly better, and that casualties due to gunfire would be no worse.
White Foragers Report Threat Of Black Looters
NEW ORLEANS—Throughout the Gulf Coast, Caucasian suburbanites attempting to gather food and drink in the shattered wreckage of shopping districts have reported seeing African­Americans "looting snacks and beer from damaged businesses." "I was in the abandoned Wal-Mart gathering an air mattress so I could float out the potato chips, beef jerky, and Budweiser I'd managed to find," said white survivor Lars Wrightson, who had carefully selected foodstuffs whose salt and alcohol content provide protection against contamination. "Then I look up, and I see a whole family of [African-Americans] going straight for the booze. Hell, you could see they had already looted a fortune in diapers." Radio stations still in operation are advising store owners and white people in the affected areas to locate firearms in sporting-goods stores in order to protect themselves against marauding blacks looting gun shops.
[pagebreak]
Another Saints Season Ruined Before It Begins
NEW ORLEANS—Front-office executives of the New Orleans Saints football team provided a much-needed dose of normalcy Monday when they announced that, for the 23rd year running, the Saints season had been ruined before it began. "I'd say this is even worse than when Mike Ditka traded away all our draft picks to get Ricky Williams," said Saints vice president of pro-personnel operations Bill Kuharich. "But there's one thing we Saints can always rely on: our chances for a winning season being shitcanned before we play a single down. We're proud to have carried on with this tradition despite everything." The National Football League has declined the Saints' "mercy rule" request to be allowed to forfeit all their home games, saying the team must set an example for its home city by being blown out in every contest.
Shrimp Joint Now Shrimp Habitat
NEW ORLEANS—Big Etienne's, a popular stop for New Orleans-style jambalaya, shrimp po' boys, and gumbo, has become a near-perfect habitat for Penaeus setiferus, the ubiquitous white shrimp used in jambalaya, shrimp po' boys, and gumbo. "It's far too early to call this a bright side, but the restaurant's location on the Delta, combined with its rickety, shabby-chic fisherman's décor, have combined to create a serviceable ecosystem for this particular species of marine life," said Juanita Colon of the Federal Department of Fisheries. Colon said if floodwaters recede significantly, many New Orleans parking lots would be suitable locations for the cultivation of dirty rice.
Bush Urges Victims To Gnaw On Bootstraps For Sustenance
WASHINGTON, DC—In an emergency White House address Sunday, President Bush urged all people dying from several days without food and water in New Orleans to "tap into the American entrepreneurial spirit" and gnaw on their own bootstraps for sustenance. "Government handouts are not the answer," Bush said. "I believe in smaller government, which is why I have drastically cut welfare and levee upkeep. I encourage you poor folks to fill yourself up on your own bootstraps. Buckle down, and tear at them like a starving animal." Responding to reports that many Katrina survivors have lost everything in the disaster, Bush said, "Only when you work hard and chew desperately on your own footwear can you live the American dream."