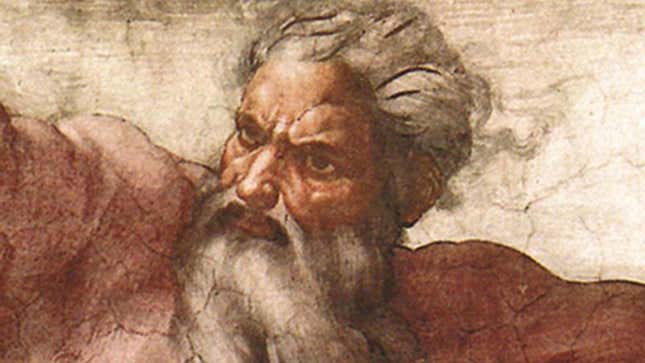 THE HEAVENS—Speaking candidly during a rare interview this Thursday, God Almighty, Our Lord and Heavenly Father, revealed to the public that He occasionally eats human beings.
The Supreme Being, who spoke to reporters today about His dietary habits, said that Homo sapiens don't comprise a regular part of His food consumption, but noted that every once in a while He "feels like eating a human" and will then pick one out from earth and eat the person alive.
"It's not something I do very often, but yes, I have been known to eat humans from time to time," said God, claiming that while He didn't consider human beings "an everyday kind of meal, per se," they do occasionally make for a decent snack. "In fact, sometimes I'll suddenly catch myself nibbling on a human being without even realizing it. They're nice and chewy and bite-size, and there's always a lot of them just lying around so I figure, hey, why not."
"Sometimes I put the remains back where I found them and make it look like a murder or something," the Eternal One continued. "But most of the time I forget to do that and the person just disappears."
Saying that He had no personal taste preferences for gender or race, the Maker of Heaven and Earth reported being open to eating human beings from all across the world and remarked that every few years He would scoop His hands across one of the world's major coastlines and pick out a variety of human beings to eat at once.
He Who Commanded Light to Shine Out of Darkness also told reporters that while He once tended to eat human beings who were elderly or infirm, He recently found that eating people in their prime "tasted just as good, so no reason not to eat them too."
"My favorite part is the legs," The Divine Creator proclaimed. "Usually, when I pick out a human being, I'll tear off their legs from the rest of their body and eat them first. Then I'll eat the arms and then the heads."
"If I have more room left then I eat the rest of the body," He added. "But by then I'm usually full, so I throw it away."
The all-knowing, all-powerful deity also acknowledged that though He doesn't technically require any form of edible sustenance at all to survive, He simply "enjoys the taste of human beings" and planned on continuing to eat more for the foreseeable future.
When asked if He felt any qualms about devouring the very members of creation that He made in His own image, God simply stated, "No."
"Back in the early days of humanity, I definitely ate way more humans than I do now," said God, remarking that He would regularly eat handfuls of human beings throughout every day of the Middle Pleistocene epoch. "But over the millennia, I've definitely eaten my share of human beings…Jimmy Hoffa, Ambrose Bierce, the Lindbergh baby, every dead body that's ever existed, Buddy Holly, Ritchie Valens, The Big Bopper…"
"Hell, I even ate Jesus Christ," God added. "That was a good meal."