Warm weather is here, and it's time to hit the links. Here are some tips to help you improve your game: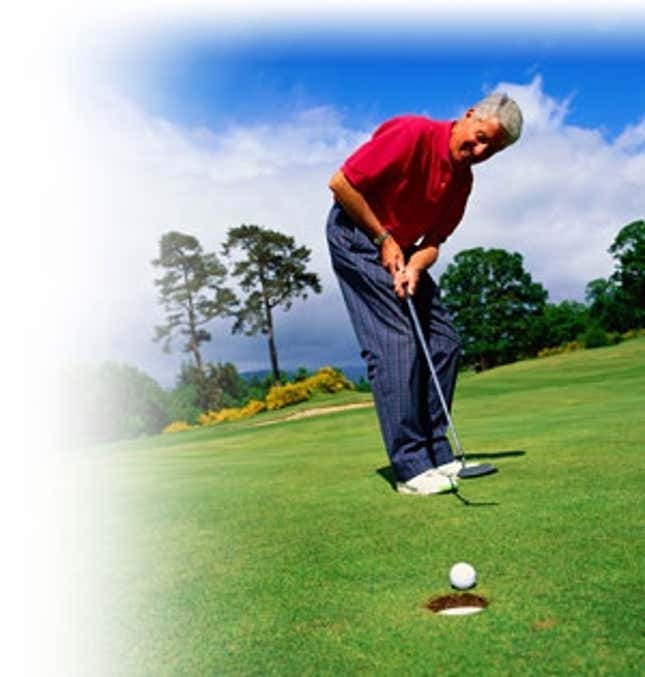 This Week's Most Viral News: September 29, 2023
When teeing off, don't forget to shout "Fore!" for some reason.
To get the most out of a Sunday afternoon on the golf course, be trapped in a loveless marriage to a shrill, clothes-obsessed witch you can't stand to be around.
If you encounter a dark-skinned person while golfing, do not panic. Maintain an air of respect, hand over all your valuables, and walk quickly to the clubhouse.
When beating other golfers to death, try a three-iron instead of a wood. You'd be amazed by the difference.
Before golfing, emboss your company's logo onto the ball, the tee, and your watch. Then embroider the logo onto the breast pocket of your shirt. There's nothing quite like an embossed or embroidered corporate logo.
If you are a cartoonist, make sure to remember any riotous comments or actions that occur while golfing.
Golfing with clubs is for pussies. A truly skilled golfer requires only the power of his mind to manipulate the ball into the hole.
Note to non-golfers: Those "World's Greatest Golfer" trophies featuring a plastic image of Snoopy teeing off are not as prestigious as they appear.
When golfing with a female half your age, offer to "help her with her swing," standing behind her and steadying her hips while grinding your crotch into her ass.
The new Titleist Titanium 975D features a 260cc deep face head, patented Thru-Bore construction, and a strengthened crown for greater energy transfer and maximum playability. No wonder it's the hottest titanium club on the market.
For maximum golfing fun, get yourself a high-tech golf bag that shoots your clubs out automatically and plays Journey's "Any Way You Want It" at the touch of a button.
Determine the angle at which you should putt by crouching low to the ground and pointing your club in the direction of the hole. This is one of the many shrewd techniques that makes golf such a thrilling game to watch.