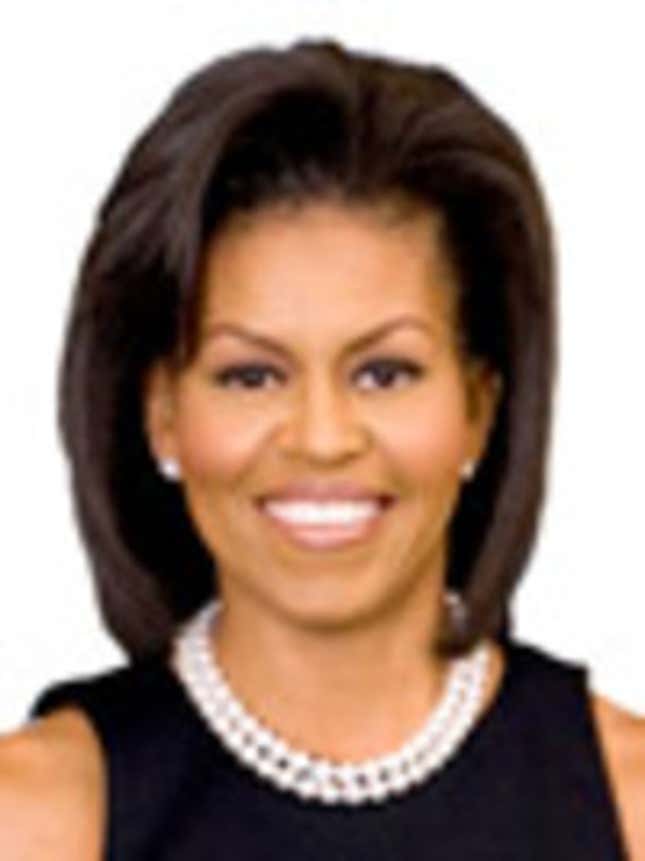 Good evening, everyone. Thank you so much for being here with us. I speak to you tonight as a mom, a wife, a daughter, a sister, and, of course, a proud American.
This Week's Most Viral News: September 29, 2023
But most of all, I'm happy to stand before you as a meticulously calculated communication tool whose every action, from the color of my dress down to each wave of my hand, has been premeditated and painstakingly devised by a set of experienced political handlers working to re-elect my husband this November.
Honestly, I'm thrilled to see all of you here tonight, knowing that my presence has been consciously engineered to soften my husband's image and give his poll numbers a quick boost. There is really no greater pleasure in the world than getting up on this stage and talking to millions of Americans not only as a first lady, but also as a cynical ploy to add warmth, humanity, and relatability to an otherwise cold, detached three-day display of political gamesmanship.
It is also an honor to tell you, in words that were written out for me by a speechwriter and then carefully reviewed and edited by dozens of ruthlessly single-minded campaign advisers, all about how my husband is a caring husband and loving father, and how, in spite of his incredibly busy schedule, he is still so devoted to our family. A moment like this is such a great chance to reveal painstakingly scripted anecdotes about how he still picks up the girls from soccer practice and how I'm always nagging him to take the trash out so that you will believe he is an everyday person like you and your friends and not a massively powerful world leader with a superhuman degree of ambition and political savvy.
After all, there are very real issues facing our country, and I'm proud to be forced to repeat some hackneyed political rhetoric that will go down much easier because it is coming out of my mouth, and to tell you about how much my husband loves these great United States and how he has met a series of challenges that you will indeed believe he has met because I seem trustworthy and not like some Washington insider who is just trying to get your vote, even though that is precisely what I am.
It's also a true honor to have my gender exploited in order to gain support among the key demographic of female voters, who I am forced to pander to by talking about my own relatable experiences as a woman. I'm honored to have my motherhood put on full display as a tug on the heartstrings of other moms around the country, and to talk about how difficult it is to raise a family and how I understand all the struggles that working mothers face in this day and age, as though that has even the slightest relation to my husband's ability to lead this country out of an insecure economic landscape and tackle complex debates over health care, Social Security, tax reform, and foreign policy, among other things.
And furthermore, it feels wonderful to be paraded out here, mascotlike, as an African-American woman, allowing my husband to appeal to both minority voters and women simultaneously, a rare feat which no other person in this campaign is able to carry out with such efficacy and which, again, I am so, so happy to do.
Lest we forget, I hasten to add what a privilege it is to be objectified by all of you here and the millions of people watching at home, as I'm forced to use my charming smile and physical attractiveness to distract an entire nation from what is, by most accounts, a generally disappointing presidency. I can't begin to convey what a dream it is to be used as a puppet by the hordes of political playmakers who direct my husband's campaign, and to stand here in a shameless attempt to appeal to voters who like how I carry myself as a strong, independent-minded woman and love the picturesque image of our seemingly ideal American family.
Needless to say, I am also overjoyed to have our two young daughters repeatedly roped into participating in this sick little dog and pony show.
If all goes to plan, after I walk off this stage, you will see my husband not only as a strong political leader, but also as an everyday man who is trustworthy, honest, compassionate, and all the other bullshit you'd expect to hear from someone being used exclusively as a totem for some uplifting and calculatedly inspiring political message. And you have no idea how proud that makes me.
Thank you, God bless you, and God bless the United States of America.