ROCKVILLE, MD—In what authorities are calling one of the most wide-reaching and deplorable cases of embezzlement in recent history, seven executives at Goodwill Industries International were arrested Thursday for allegedly skimming used clothing, old furniture, small appliances, and thousands of other donated items from the charitable group.
"We're looking at some very serious abuses at the highest levels of Goodwill's corporate hierarchy," said FBI lead investigator Samuel Corson, addressing reporters as he stood next to a table piled high with dozens of CRT computer monitors and Rainbow Brite lunchboxes confiscated in recent federal raids. "Velcro orthopedic shoes, mini trampolines, Herb Alpert and the Tijuana Brass LPs—these individuals were defrauding their own organization of thousands upon thousands of previously owned and slightly damaged items."
"From the number of Sunbeam-brand blenders and porcelain cherubs we've seized so far, we estimate this misappropriation of goods has been going on for more than a decade," he added.
Corson said the FBI was first alerted to the situation early last year, when an anonymous whistleblower inside the nonprofit organization tipped off agents to an ongoing scheme in which garbage bags full of elastic-waisted jeans and old Cub Scout uniforms would be accepted from legitimate donors and then immediately diverted to an undisclosed private warehouse, never making it to the shelves at Goodwill's retail locations.
G/O Media may get a commission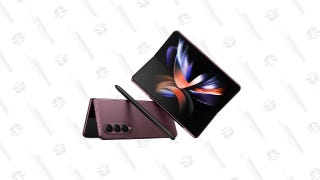 Save Up to $300
Galaxy Z Fold4
Authorities confirmed that in order to build their case against the group's leadership, they monitored suspects around the clock, often taking thousands of surveillance photos of high-ranking employees as they left Goodwill locations with armloads of souvenir ashtrays and novelty shot glasses. Many executives were also reportedly spotted in public using promotional umbrellas from auto insurance companies or bowling balls engraved with other people's names.
"These guys cooked the books so no one would know they had their hand in the donation bin," said Christopher Chen, a forensic accountant with the FBI. "For example, if someone left 10 VHS tapes in the drop-off box, they would only mark nine of those as received. Suddenly, you have a Jane Fonda workout video that doesn't exist on paper, and one of these crooked Goodwill execs is taking it home. They skimmed 10 percent off the top like that all the time."
"It began with a used wheelchair here and a Danielle Steel paperback there, but pretty soon they started to think they were untouchable," he continued. "A box of old pocket calculators would 'fall off a truck,' and they couldn't stop themselves. They kept wanting more."
After executing search warrants in the suspects' homes and rented storage units, law enforcement agents said they carted away a sizable number of AM/FM radios and golf visors advertising Pepsi products, as well as hundreds of malfunctioning Big Mouth Billy Bass toys.
Legal experts have estimated that, if convicted, the executives could be forced to pay up to $450 in restitutions.
"I got suspicious when I noticed some costume jewelry missing from the store and that very same night saw [Goodwill CFO] Dennis Shepler's wife at a restaurant flaunting a pair of familiar-looking clip-on earrings and a Hard Rock Café denim jacket," said a cashier at a Bethesda, MD Goodwill location, who wished not to be identified. "Then our store manager who's been to their house told me their kitchen has more drip coffeemakers with missing carafes than she's ever seen in her life. Something about that just didn't add up."
Defense attorney Gary McMullin, who represents several of the accused executives, proclaimed their innocence as he spoke to reporters in his office, inviting them to sit down in a variety of worn, mismatched chairs.
"Goodwill is a compassionate organization that provides so much to those in need, and my clients have given years of dedicated, selfless service to this company," McMullin said as he stood near a bookcase containing five nonconsecutive volumes of the World Book Encyclopedia and adjusted the "Home of the Whopper" belt buckle holding up his flared, stained tuxedo pants. "These allegations are completely outrageous, and we absolutely intend to fight them.