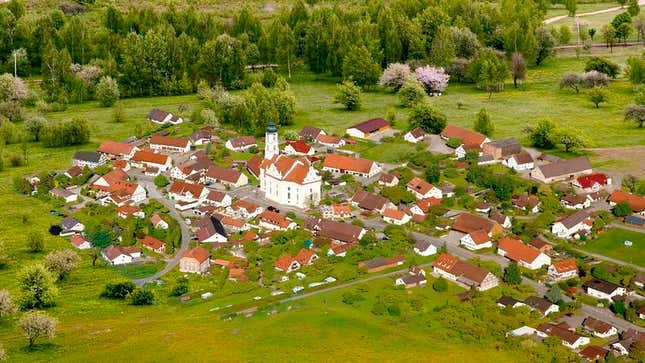 MARTINSDALE, MT—In an effort to improve the party's chances in the 2016 election, GOP officials announced Thursday that the Republican National Committee has built a functional full-scale replica of a struggling Ohio town in which to train presidential hopefuls.
Edgelords Explain Why They Love Elon Musk
Top-level Republican sources told reporters they have been using the fake town of Stocktonville, OH, which is located in a remote stretch of central Montana, to rigorously prepare candidates since completing construction of the 18-square-mile facility last month. According to GOP leaders, the recently erected village, which is inhabited by 33,000 actors coached to portray middle-class Americans such as small-business owners and auto workers, replicates every location and personal interaction a candidate could expect to encounter while campaigning in a critical Rust Belt swing county.
"Every morning, we start running our candidates through their itinerary of simulated voter meet-and-greets at Stocktonville's mock schools, shopping centers, and town squares, having them redo each leg over and over until they get it right," said Republican National Committee chairman Reince Priebus, noting how the locality has been meticulously crafted to reflect an unemployment rate of 8.3 percent, a median income of $38,000, and a sense of uneasiness about the direction of the country. "So, whether it's learning to naturally put on a hardhat and Carhartt jacket to impress the workers at one of our six artificial factories, or tossing out the first pitch at our life-size double-A baseball field, our fully immersive training grounds provide a safe place for candidates to work out the kinks before running for office."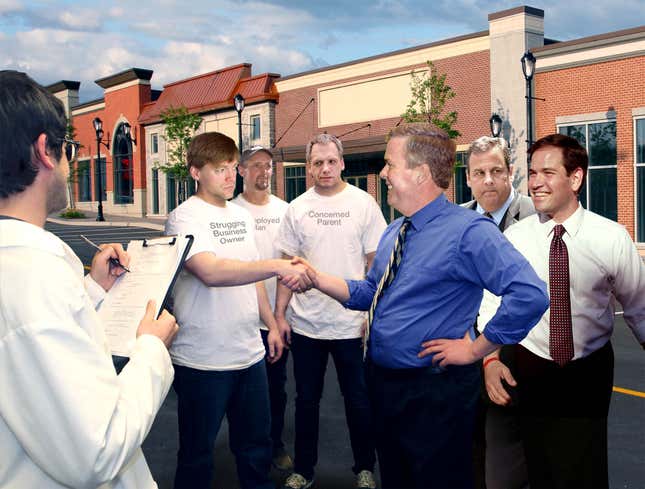 "With enough repetition in here, they'll soon be interacting with real voters on the campaign trail based on nothing but pure muscle memory," Priebus continued.
While project leaders reportedly designed over 70 unique whistle-stop stations within the training facility, RNC sources said the centerpiece of the constructed town is Elle's Place, a fully operational roadside diner where candidates repeatedly rehearse the key steps of casually rolling up their sleeves, removing their necktie, and unfastening their top two shirt buttons before sitting down to talk about the economy with blue-collar workers.
Reports indicated that the facility's design team employed regional experts to ensure the authenticity of every aspect of the faux restaurant, from the wardrobe of truck drivers at the counter who must be greeted with a hearty "Morning, fellas" and slapped on the back, to the recipe for the unpalatable World-Famous Chili, which candidates must learn to choke down while maintaining an approving smile.
GOP operatives confirmed that, once the candidate waves goodbye to patrons before slipping back onto the campaign bus, site technicians quickly reset the props and return the actors to their starting positions in order for the presidential hopeful to run through the course once again from the top.
"It took me a while, but I've become pretty comfortable serving meals at the homeless shelter portion of the course," said former Florida governor Jeb Bush, who has reportedly been extremely committed to the training program, oftentimes returning late at night to put in extra effort posing confidently yet casually in photo ops with the facility's fake eighth-grade civics class and with the actors playing the staff of Stocktonville's artificial mom-and-pop store. "But when I drive over to the VA hospital to talk with veterans, I always screw up my one-on-one with the guy playing a young soldier back from Afghanistan who is going through his physical therapy session. I know I'm supposed to start by putting my hand on the veteran's shoulder and saying 'Thank you for serving our country,' but I never know when to say how he exemplifies the best qualities of America."
"I always forget and start stumbling over my words, and then all of a sudden the air horn goes off and they stop the simulation," Bush added. "I must have messed that up at least 20 times by now."
Despite a number of initial successes, including teaching every candidate the exact pacing at which to drink a single beer while chatting with patrons at the custom-built local bar, a number of insiders confirmed that the Stocktonville facility has experienced several setbacks. The fake town has reportedly suffered countless mechanical malfunctions in its animatronic county fair simulation, and potential candidates are said to have repeatedly failed to show any believable empathy during town hall meetings when fake residents explain how they lost their jobs during an economic downturn, both problems that technicians on the ground have yet to be able to remedy.
GOP sources were quick to point out, however, that the current facility is still a vast improvement over the single ropeline of mannequin voters that served as a practice ground in 2012.
"What's most important is that the Stocktonville Complex provides a protected, controlled environment for candidates to attempt to connect with our simulated middle-class Americans," said RNC co-chairman Sharon Day, who often takes time to watch for herself from the facility's various observation posts. "Rand Paul has probably separated himself as the best at reading a passage of Scripture during our mock church service, and Marco Rubio was the first to master deftly handling the heckler we choreographed for the rally. Rob Portman, however, is still making mistakes talking about Social Security with the actors at our senior citizen home, which at this point in his training is simply unacceptable."
"We're thinking Friday might be his last day with the program," Day added. 

At press time, RNC leaders confirmed they had discontinued the leg of training that involved entering Stocktonville's African-American neighborhood, saying it was simply too difficult for all of the candidates.