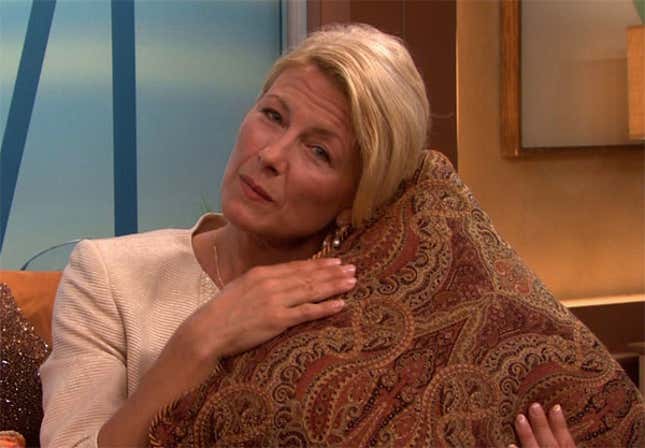 Grace North, wife of Congressman Ronald North guest blogs today, answering your questions about how to move on in the face of personal adversity.
CDC Issues Dire Warning That Nick Cannon Is Feeling Horny
Grace, you've been such an inspiration. Three years ago, my husband left me for a much younger woman. I know I should move on, but I can't. Any advice?
—Kelly B, Huntington Beach, CA
Kelly, all I can say is that it takes time, so don't beat yourself up. In fact, indulge yourself, perhaps with a few of our French Colonial throw pillows. Their rich fabrics and sophisticated accents will complement any traditional or contemporary decorating scheme.
Your story has truly moved me. I am in awe of your strength. My ex-husband refuses to pay child support and has not come to visit our son in over a year. How do you explain these "adult" things to young children?
—Maya R, Florence, SC
Well, Maya, it's never easy, but try to deal with it on their level. For instance, our youngest, Natalie, is 11, so I went up to her room and we just sat in a comfy pile of pillows from the Graceful Moments, Snuggly Kids™ Collection. The pillows are whimsical and bright, but also made of a sturdy poly-cotton blend so that you can have a fun pillow fight after you talk to him about what a deadbeat her father is.
Hi Grace, I recently lost my son to a drunk driver. He was only 14 and I'm in so much pain. What do I do?
—Andrea P, Great Falls, MT
Andrea, I'm so sorry to hear that. In fact, I'm so sorry, I'm giving you a 20% discount on any pillow in my Modern Urban Collection. Just use this discount code: comfort296. Congratulations. I hope a luxurious set of pillows helps to ease your suffering.
Grace, after my husband left me, I've been having thoughts of suicide. Did you ever feel that way?
—Gloria S, Denton TX
Gloria, unfortunately as a businesswoman, I don't have time to kill myself. But I do know that if I were to shoot myself in the head through one of my Oversized Microsuede throw pillows, it would probably silence the gunshot. Hope this helps!