LOS ANGELES—In yet another disturbing case of hospital negligence, two elderly grandfathers were accidentally switched at the Cedar-Sinai Medical Center in Los Angeles and sent home with the wrong families, sources reported Monday.
Authorities have launched an investigation to determine how 89-year-old World War II veteran Samuel Kaminski was released to Walter Crowley's family, while Crowley, 86, was sent to Kaminski's home. Cedar-Sinai administrators said the mistake was discovered when Crowley was brought to the hospital for a routine checkup and doctors realized he had shrunk five inches since his last appointment, nearly six months prior.
This Week's Most Viral News: September 29, 2023
Janice Redding, who has cared for Kaminski since November despite not being related to him, said she has still not recovered from the shock of hearing the news.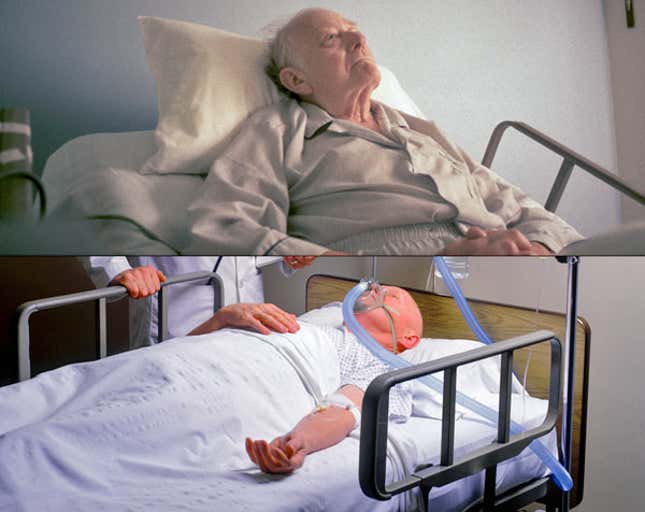 "You never expect something like this to happen to you," said Redding, who was informed by the hospital only last week that the man her family had called "Grandpa" for the past half year belonged to someone else. "To realize that you've been feeding, changing, and pushing a complete stranger around town this whole time—it's devastating."
Redding claimed she had no reason to think there had been a mix-up, since Kaminski spit up meals of mashed peas and carrots in an almost identical manner as her biological father. In addition, Kaminski reportedly made the same incoherent attempts at speaking and enjoyed watching CBS Sunday Morning while the family ate breakfast in another room—just as Crowley had for the past four years.
"Sure, he may have cried through the first few nights, and sometimes he looked confused or scared when we spoke to him, but none of that was really out of the ordinary for Pappy," Redding said. "Even when he called me 'Sue,' we just brushed the whole thing off as nothing more than his usual senseless gibberish."
Added Redding, "You know how they can be at that age."
In contrast, Redding's husband, Howard, recalled several instances during which things didn't feel "quite right" in the months before the mistake was discovered. Upon being released from the geriatric ward, Kaminski reportedly threw tantrums whenever Howard tried to undress him for bed, and he regularly resisted being kissed or taken for car rides by any of his supposed family members.
"Something was definitely strange," Redding said. "Not only did he not look like any of us, but there were times when I'd be watching him asleep in his room, when it seemed like he was just different. Maybe even Polish."
According to a report released by the U.S. Department of Health and Human Services, this is part of a growing trend of administrative blunders in the nation's geriatric hospitals. In 2005, a grandfather thought to be 94-year-old Stanley Baker was released to a local Chicago couple, who, weeks later, discovered that the senior was actually 92-year-old Roberta DiPiettro during a horrifying appointment with Baker's urologist.
"Our studies have found that one out of every 1,000 grandfathers, and nearly four out of every 1,000 grandmothers, are accidentally switched at some point during their hospital care," said Brian Thorpe, an assistant secretary for Health and Human Services. "Sadly, many of these misplaced seniors go on to live with the wrong family for the rest of their natural born lives."
"Sometimes that's as long as four to five months," Thorpe added.
Redding, who will finally be reunited with her family's biological grandfather later this week, said she has mixed feelings about bidding goodbye to Kaminski.
"I suppose I should be happy. After all, this is the right thing to do," said Redding, while staring wistfully at various photos of Kaminski that now adorn her home's mantelpiece. "I'm sure Samuel's family misses him almost as much as we miss Grampy Walter."
Added Redding, "Probably more, considering what a pain in the ass our grandfather is."
Although Cedar-Sinai has denied charges of negligence, the hospital has begun instituting more stringent identification measures in order to prevent future elderly patients from being discharged to the wrong family.
Nevertheless, Redding's family is debating suing the hospital in order to recoup costs for their pain and suffering, as well as thousands of wasted dollars in McDonald's coffee.