ROCKFORD, IL—Local grandmother Eileen Stafford, 78, expressed concern Monday over the number of dinner rolls she should have on hand for this year's Thanksgiving meal, appearing distressed when discussing the implications of there being either too many or possibly too few.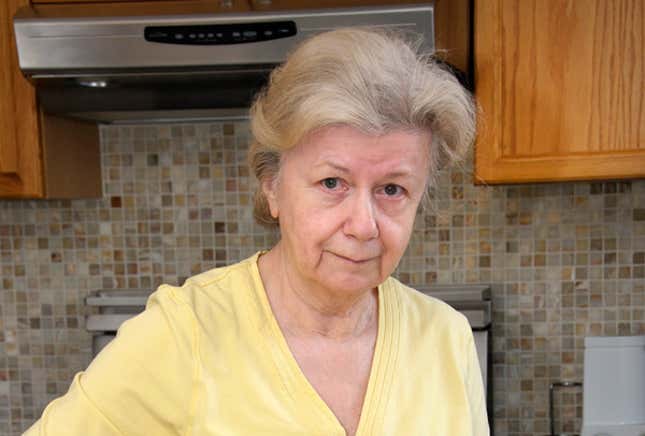 This Week's Most Viral News: September 22, 2023
On a recent trip to the supermarket, Stafford reportedly purchased a package of 12 enriched white dinner rolls that was on sale for $1.89, and has since remained torn over whether a second package is necessary.
"They're a little small, and I don't want anyone to go hungry," said Stafford, carefully removing the rolls from the grocery bag to examine them more closely. "Of course, I can always give mine away if there's someone who doesn't get enough."
Added Stafford, "I don't have to have any rolls."
The elderly grandmother of four told reporters that, while she would hate for anything to go to waste, she would be equally upset if one of her guests reached into her wicker basket and found nothing but crumbs.
"Bill usually has two, even though he really shouldn't," said Stafford, referring to her son-in-law, whose above-average appetite she must always take into consideration when planning family meals. "And [daughter] Sheila's on that diet where they don't eat any bread."
Despite her insistence that she really doesn't want to bother anyone about anything, Stafford admitted that in the past week she has contacted several family members on multiple occasions to get an idea of how much company might be coming over.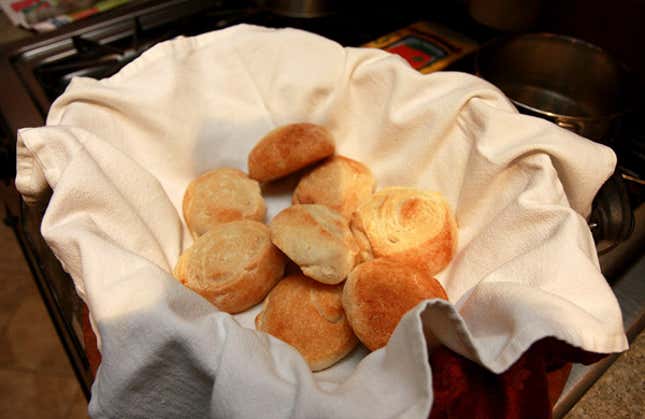 Pacing nervously in her kitchen, the small septuagenarian admitted that, even if she were to acquire an accurate estimate of those planning to attend, the number still could increase or decrease dramatically without any notice.
"Sandy doesn't make it home for holidays much since the divorce, but you never know," Stafford said of her youngest son. "And [grandson] Dennis sometimes gets called into work at the last minute, because he is a very good doctor and people trust him and rely on him. Still, it would be a real shame if that happened five Thanksgivings in a row."
As a precautionary measure, Stafford has made several trips to nearby grocery stores to ensure that suitable dinner rolls are still available should a need for them arise in the coming days. If an emergency leaves her with no time to purchase an additional package, Stafford said she is prepared to defrost the hot dog buns in her freezer, a surplus from her upsetting overestimate of the turnout for this year's Memorial Day picnic.
According to a longtime friend who spoke with Stafford at church Sunday morning, the grandmother became flustered when discussing the possibility of someone bringing a girlfriend or boyfriend unannounced. Stafford, who lives alone in the house where she and her late husband raised their children, also said that she fears failure to serve her guests an appropriate amount of food might result in family members deciding to host next year's Thanksgiving festivities at one of their own homes instead.
"Grandma gets so worked up about the littlest stuff," said Amy Joyner, Stafford's granddaughter. "She's been calling me a couple times a day to update me on her dinner preparations and ask if I know about a better sale on sweet potatoes near us."
Joyner said since her grandfather Walter Stafford passed away in 2005, the holidays have made her grandmother uneasy because she worries that no one will be able to carve the turkey into "nice-sized" pieces the way Grandpa used to.
"It's always, 'Oh, no, that's not how Walter used to carve it—you should really carve it thicker, like your father would,'" said eldest son Michael Stafford, who has taken over many of the patriarchal duties in recent years. "It's just a turkey, for Christ's sake, and Dad isn't the one carving it anymore. I am. I'm the one carving the damn turkey now."
In addition to her roll-related anxieties, family sources reported that Stafford still has not decided whether to serve frozen or canned corn.