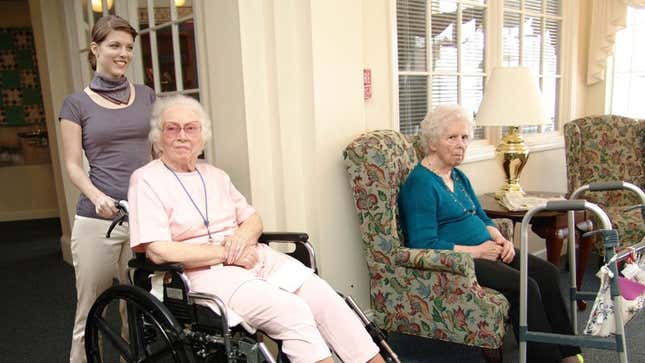 GLENWOOD SPRINGS, CO—Walking hand-in-hand with her adult daughter as they passed through several carpeted corridors and brightly lit common rooms, 86-year-old Bonnie Tellinder listened politely Sunday as a staff member gave her a guided tour of Esplanade Village, the retirement home in which she will grow increasingly frail and die.
This Week's Most Viral News: September 22, 2023
"Right here we have our beautiful lobby and atrium where visitors check in and pick up their ID badges," said facility director Claire Oberson, motioning toward the front desk where Tellinder's family will eventually fill out the paperwork to claim her body. "Over to the left you'll notice one of our two recreation rooms, which are popular places for residents to play cards or do a little hobnobbing before supper."
"Every Wednesday we also have a movie night here," she added, referencing the event Tellinder will patronize until she is too weak to do anything except force down a widening assortment of daily pills and hobble back and forth to the bathroom.
Tellinder, who led a fairly independent life until late August when a fall in the shower convinced her children that she could no longer care for herself, reportedly stayed mostly silent during the tour, taking in the sights and sounds that will surround her for several more months until her vision and hearing deteriorate almost completely. Sources stated that Tellinder nodded courteously as her guide spent several minutes showing off the facility's dining area, where Tellinder will steadily lose her appetite as her withering frame grows ever more sallow and feeble.
According to sources, Tellinder showed an interest in the various watercolor paintings posted on the facility's Community Art Wall, surveying the spot where her charcoal drawings of the Brooklyn Bridge will appear briefly before being taken down, recycled, and replaced by another resident's art following her death.
As the tour continued, the grandmother of six was shown multiple places that her remains will be wheeled past several hours after she dies, including the facility's small library, the enclosed sundeck, the in-house beauty salon, and the flower-lined front entranceway. Upon entering Tellinder's prospective apartment—a 15-by-15-foot residence where a night-shift employee is likely to find her body lifeless and stiff with rigor mortis—her 52-year-old daughter Eileen Caruso commented on the space's coziness.
"Oh, feel how comfy this is! Just like your mattress at home," Caruso said of the deathbed. "They'll even change the sheets for you every other day!"
"Bet you're glad you won't have to do that anymore, lucky lady," she continued.
After pointing out the closet that would have to be cleaned out by relatives after the corpse has been removed and the room disinfected, Oberson provided some information on Esplanade Village's catering service, which is likely to serve Tellinder her final meal, and noted the suite's view of the small outdoor garden, which is certain to be among the last things Tellinder ever sees.
In addition, Oberson noted that the facility featured a dedicated, on-site medical staff, each of whom is specifically trained in geriatric care and is well-versed in liaising with local funeral directors to prepare the deceased for embalming.
Sources confirmed that after taking a moment to investigate the room in which she will soon die, Tellinder appeared to force a smile and express her approval.
"This is a very lovely view," the elderly woman said to Oberson, who will in a matter of months place a call to each of Tellinder's children, informing them that efforts to revive their mother had failed before providing them with driving directions to the local mortuary. "Very lovely indeed."
"I think this will be a nice place to live," the all but dead woman added.