PORTLAND, OR—Speaking at an impromptu press conference on her back patio, seventh-grade language-arts teacher Wendy Polonski, 31, announced that the seedless green grapes she brought to a small potluck-style picnic with Fernwood Middle School colleagues Sunday in Portland's Washington Park had been "really popular."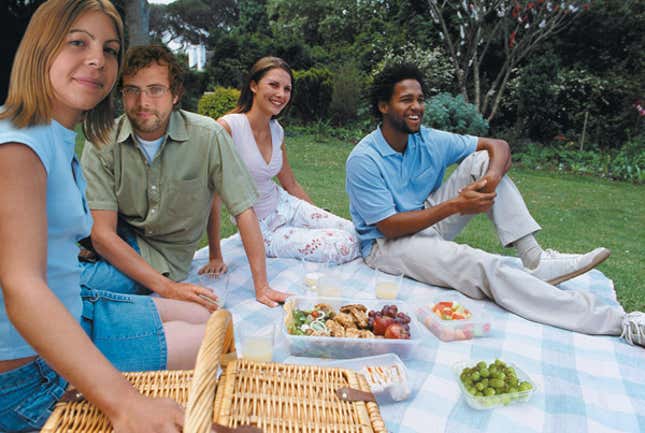 This Week's Most Viral News: September 22, 2023
"Everybody loved my grapes," said Polonski, who eyed strawberries, tortilla chips, and even chocolate-chip cookies before selecting the organic green fruit, which she purchased for $3.79 a pound—$5.54 total—at Whole Foods. "They made the event something special."
The picnic served nine guests an array of foods, including pasta salad, chips, cheese, crackers, and warm guacamole that reportedly went untouched. According to Polonski, the picnic didn't appear to "pick up steam" until the grapes were revealed.
"They just couldn't stop eating them," Polonski said, referring to the guests' tendency to finish one grape and reach almost immediately for another. "Honestly, it looked like some people hadn't had a meal all day. [Social-studies teacher] Paul [Chadburn] put three in his mouth at once."
Several picnic attendees were observed breaking off entire stems of the fruit, placing them on paper plates, and then walking away, only to return moments later for another helping.
The two bags brought by Polonski, numbering approximately 170 grapes, witnesses said, were barely enough for everyone.
"I love grapes," said teacher's assistant Janice Lyons.
Said Polonski: "If people hadn't started cutting back as the party wound down, we certainly would have run out. It just goes to show you that people generally gravitate towards simple, good-tasting food."
Sources indicated that the event was enjoyed.
"It was good to get outside and spend time with folks, eating and everything," said Peter Facgle, a special-education teacher. "It doesn't seem like we have any time to talk at work."
Pre-algebra teacher Gail Roort, who was seen touching the grapes without consuming any, described the picnic as "probably the nicest part" of her holiday weekend.
"I'm so happy that I decided to come," said Polonski, who briefly considered skipping the picnic entirely in favor of a block party near her house. "People really appreciated how nicely the grapes complemented the food that was already there."
"The look of satisfaction on their faces said so much more than any words they could have said," Polonski added.
A self-described "people person," Polonski is a frequent attendee of work-, extended-family-, and neighborhood-related social gatherings.
"A little planning really pays off in group situations," said Polonski, who checked the weather forecast before deciding on the specific dish she would bring. "There's a big difference between bringing something along as an afterthought, and bringing the perfect dish for the occasion."
Polonski added: "Sometimes I don't know if I'm exceptionally considerate or exceptionally lucky. Or both."